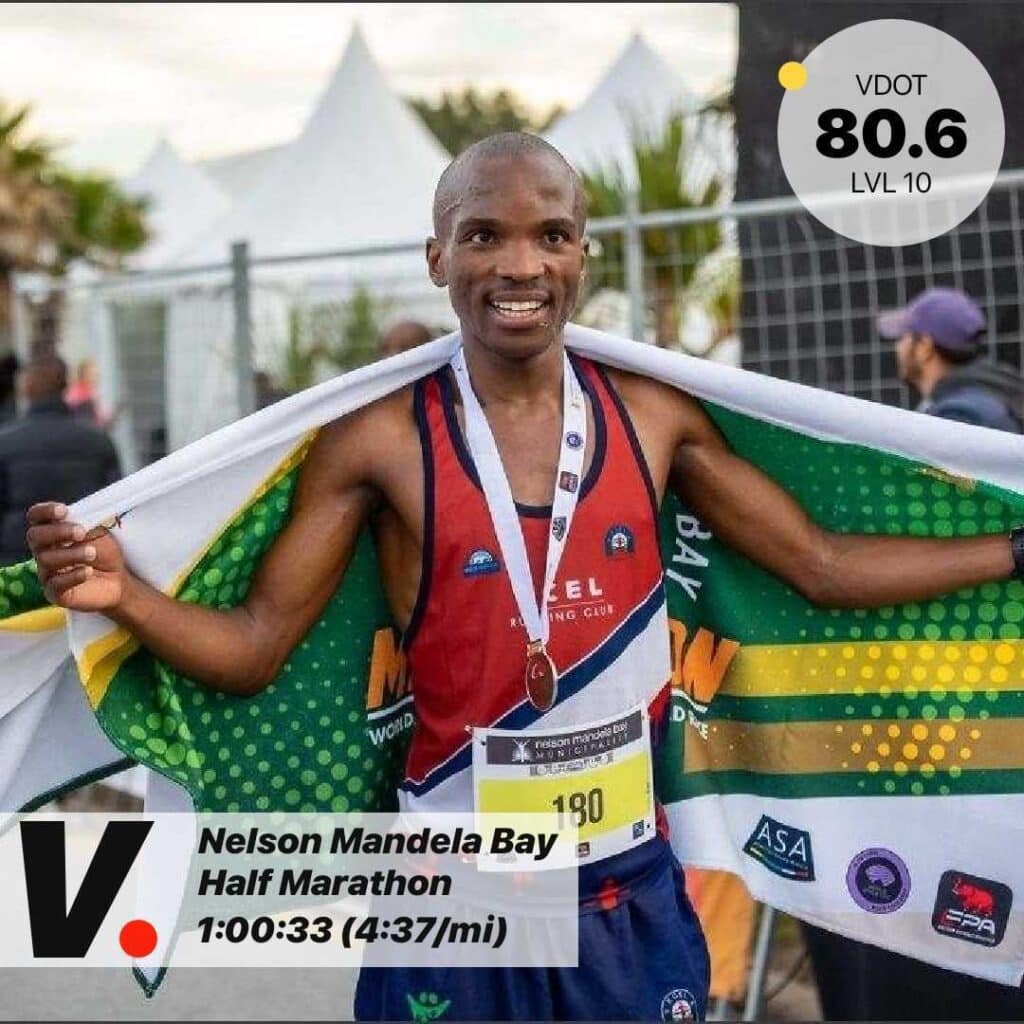 Tebello Ramakongoana's recent performance at the Nelson Mandela Bay Half Marathon earned him a new national record, personal best and the top scoring performance to date on V.O2. We connected with Tebello's coach James McKirdy to learn more about his story and how their chance encounter has led to such a successful partnership.
Tebello's Backstory
James: Born in the village of Qacha's Nek in the Kingdom of Lesotho, Tebello started running at the age of 15 (2011). (Lesotho is a landlocked kingdom surrounded by South Africa). Showing promise as an athlete with sports that required a lot of running, Tebello ended up running his first race at the age of 15 (5000m). He won and he remained undefeated in any race he competed in throughout his time in high school.
At 17, Tebello ran his first "major event" – a 10k where he was exposed to the nation's top talent and then at 18 years old he would run his first half marathon. All of this in the high altitude of Lesotho (5,500-6,000ft). In 2017, Tebello would make his way to South Africa for the first time to participate in larger scale races – running four half marathons that year ranging from 1:06:08-1:08:09.
In 2018, Tebello would see a marked improvement to 1:03:52 displaying promise for the longer distances at only the age of 21. A year later he would improve just a bit more by running 1:03:21 at the Nelson Mandela Bay Half Marathon. It would be another year later where Tebello would win his first national championship – this time at the shorter distance of 10,000m on the track.
In 2021, he would make his marathon debut at the Cape May Marathon – a stunning 2:10:24 performance for 3rd place! Running in favorable conditions, Tebello showed just how good he could be over the marathon.
How did you connect and tell us how you're currently supporting him?
James: I met Tebello at the World Championship in Eugene, Oregon. Serving another athlete, Eduardo Garcia was set to run the marathon and represent his nation, U.S. Virgin Islands. Tebello came knocking on my door near midnight on a Friday evening. He was trying to enter the room but his key was failing. I opened the door to a smiling stranger. "Hello!" he exclaimed. I had absolutely no idea who he was… but in a short time I would learn much about my new friend.
Tebello arrived to Eugene after 36 hours of traveling from Lesotho, Africa. Unfortunately, the airline lost his luggage and the only possessions with him were his identification, sandals, and clothes on his back. Even more worrisome was that he arrived less than 36 hours before his race… the marathon! Not having a coach or support on campus, it was fate that led Tebello and me together. I had brought extra supplies (bottles and nutrition), a singlet, extra running clothes – Tebello would want for nothing come race day, safe for shoes to run in! I made my way to the Asics booth and they were more than happy to help an athlete in need. They supplied us with racing shoes and training shoes! Nike did as well… and thankfully Tebello would have what he needed for race day – even if it wasn't an ideal situation.
Tebello would finish 35th at the World Championship – 2:12:35. Oddly, he was disappointed. He understood the circumstances around the chaos… but he still wanted so much more for himself. Over the next week, we would spend time together and learn about each other. We'd discuss training and ideas – and talk about our families. I was grateful to be a part of his journey.
Near the end of our trip, Tebello asked me to coach him. He was thankful for our time together, what I did for him. But I think too… he recognized a significant passion in me for this sport. In the training and the athletes alike. I was happy to accept him and we've been together ever since.
Just after a month together… Tebello and his wife welcomed their first child! A boy who lights up his world. But navigating running WITH fatherhood is no easy task and Tebello (like anyone) was learning how this amazing life change would change his day to day – each one bringing new challenges.
What have been the big changes in his training since you started coaching him on V.O2?
James: Training for Tebello prior was a LOT of easy running. I had made the assumption that he spent a lot of time doing speed work but quickly found out that he had spent many years honing in on one aspect. Time spent running. Sure, he did speed weekly… but the structure wasn't that of which I was accustomed to… nor did it seem to have a development concept in the segments. Everything seemed to blend – and it made me rethink much of my own ideas and "steadfast" concepts.
We spent the first 4 months of training developing his raw speed. Tebello isn't interested in running a specific time at a race – it's about WINNING the race. The culture is different than in the USA, for most races, so when it came to racing it was about being fit enough to win the event rather than trying to PR in every attempt.
Here are the results of the fall season:
35th – World Championship – 2:12:35 (where we first met)
1st place – Shabala Half Marathon – 1:02:59
4th place – Durban 10K – 28:34 – Personal Best
1st place – Illovo 15k – 45:40 – Personal Best (fun race)
1st place – Eliot Madeira Half Marathon – 1:02:12
Spending the fall season focusing on 10k/half marathon specific work produced a lot of fun efforts! But it was all in building for the Durban International Marathon held in March, 2023. A focus race where we WOULD aim for a time as much as the win itself.
From mid-December to March, Tebello adjusted towards a true marathon segment. One filled with far more "marathon pace" exposure than he'd ever run before. We incorporated bouts of short power but the main focus was on developing the ability to hold speed over the distance. Knowing that the weather in Durban, South Africa was likely to be challenging, we needed to get as fit as possible to be ready for whatever came our way.
Tebello would go on to win the marathon in a course record of 2:10:10 – a lifetime best as well. What was even more remarkable was that it was 75 degrees with a 69 dew point – winds howling to 20+ mph along the promenade of Durban. [Editor's note: 2:07 temp conversion]
This segment set us up for selection for the World Championship in Budapest this summer. Opting not to run another marathon between the two, we focused on a national record attempt at the Nelson Mandela Bay Half Marathon. Tebello would face competition from athletes who have run 1:00:00 in the half marathon as well as 2:06-2:07 in the marathon.
Our plan of attack was to adjust for the weather (wind) on the out and back course – but to take a risk near the 15k mark. Tebello would run splits of: 14:45, 14:21, 14:08, 14:05 (57:20 at the 20k mark).
He closed incredibly strong, running to 2nd place overall with a new national record of (official time) 1:00:35 (chip time of 1:00:33). By far the greatest race of the young athlete's career.
Our race results in 2023:
1st place Durban Half Marathon – 1:04:31 (marathon pace effort)
1st place Durban International Marathon – 2:10:10 (course record)
1st place – Lesotho National Championship (6000ft elevation race) – 29:08
2nd place – Nelson Mandela Bay Half Marathon – 1:00:35 (National Record)
What are his goals moving forward?
James: Tebello's main focus is to prepare for the World Championship on Aug 27, 2023. We'll meet again as roommates but this time we won't be strangers! Past the World Championship we aim to earn the Paris Olympic Standard of 2:08:10 and to compete at the Olympic Games. We may even try to set a few more national records along the way – if the opportunity presents itself.