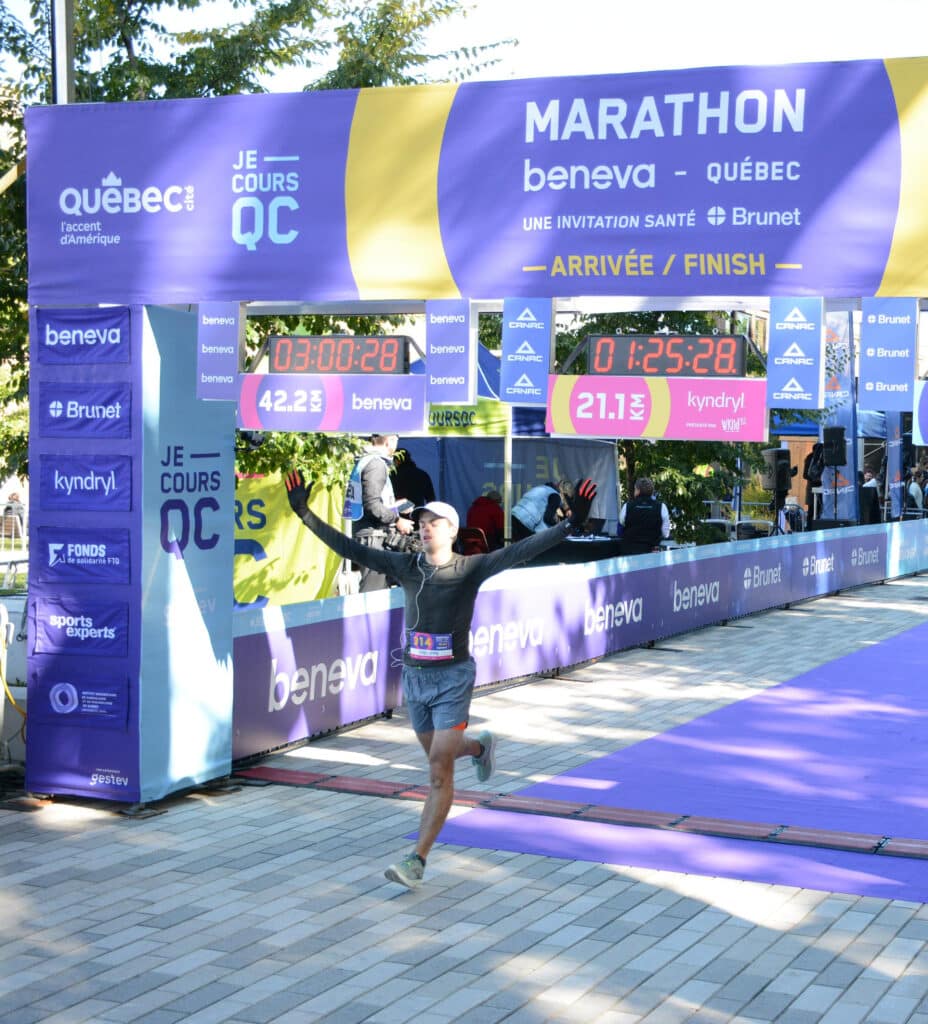 Tell us about yourself (where you live, train and how you got started on V.O2).
My name is Philippe Desjardins. I am 38-year-old living in Quebec City, Canada. Basically, I train for three months in hot humid weather and four months in the snow. The best periods to train are April-May and September-October.
I have been running consistently since 2019. I started by commuting to work (running 5 km twice a day). A few months after that I tried Jack Daniels' VDOT plans to train for my first half marathon in 2021 (1:27:07). My goal for 2022 was to race my first marathon, which I did (Quebec City Marathon in early October).
How was your training leading up to the race?
I followed JD's formula book (blue plan). I averaged 90-100 km/week (between 55-60 miles/week). Not a lot of speedwork, more tempo. I raced a 10 km (38:10 PB) at the start of the training block as a way to set my training paces and VDOT (~54). I was able to follow the schedule pretty accurately during the 18 weeks leading up to the marathon. No injuries!
Did the V.O2 app provide benefit to your training and racing?
It benefited every major aspect of my running. 1) The coaching I received gave me basic principles to make progress 2) I was able to follow my progress with V.O2 (from 49 to 54 in 2 years) 3) There was a major boost in motivation seeing the progression with each training block.
Talk to us about a recent race or your progress in general! How did it go? What were your goals going into it and did you meet them?
The Quebec City Marathon was held on October 2. My VDOT predicted a 2:56:00 time, but since it was my first, my goals were: A: 3:00:00 B: <3:10:00 C: Negative splits. Quebec is considered a hilly marathon with a 100m climb spanning 2 km starting at the 12th km. I knew the pace needed was about 4:15/km. I started out relaxed until the hill, then accelerated to 4:10/km. I hung on through km 35 to 42 for a 3:00:28 finish. Mission accomplished!
Is there anything you learned from your recent training or race that can help you improve in the future?
I hope to be able to carry the training benefits from season to season, since I slow down a bit during the winter months (50 km/week). I will race shorter distances in the spring of 2023 (10 km, 21 km) and hope to race two marathons in the fall! I want to go sub-3hrs.