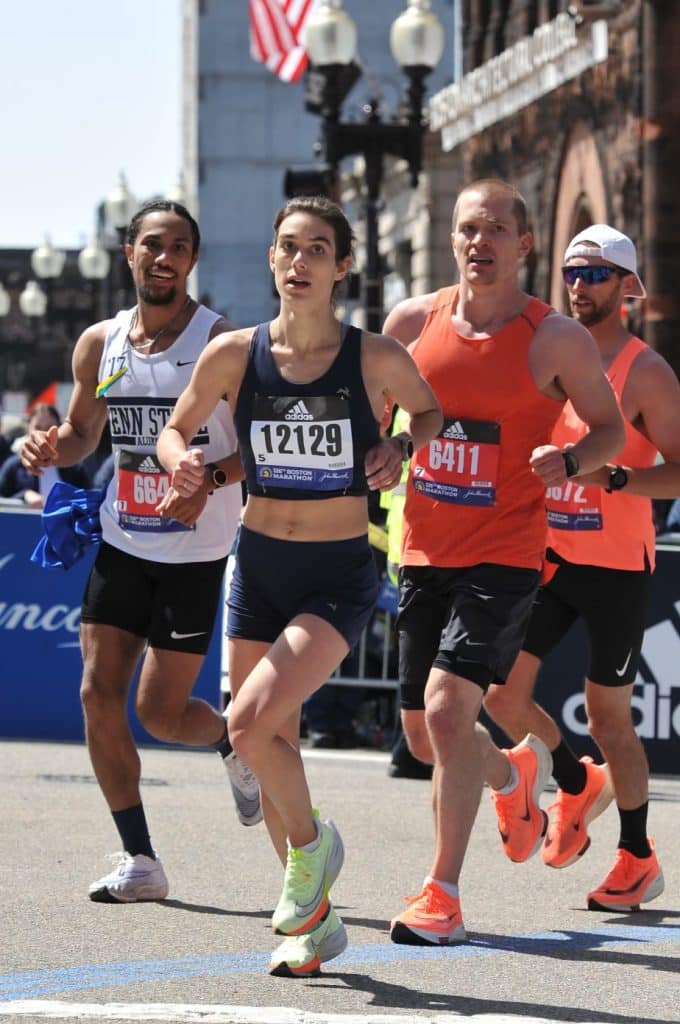 Caroline Lee lives and trains in Nashville, TN. For the past couple years, running the Boston Marathon has been a dream. As someone who loves the marathon, running Boston felt like a rite of passage. After hearing countless stories from friends about the course, the spectators, and the weekend as a whole, Caroline was more than ready to experience the event firsthand.
How was your training leading up to the race?
My training went well! I ran the Chicago Marathon in Fall 2021, so it was helpful to have that training as a solid base going into my Boston build. Nashville winters can be pretty dreary, dark, and rainy, so I had some tough days, but physically my body handled the workouts well. I could feel myself getting stronger with each week. I also started running with a training group in Nashville. Being surrounded by friends made the difficult workouts and chilly days much more enjoyable.
Did the V.O2 app provide benefit to your training and racing?
Absolutely! The V.O2 app played a critical role in helping me stay on track with my training. My coach loads one week at a time, so seeing the full week on the app helped me mentally prepare for workouts and plan other commitments accordingly. I like the simplicity of the app and the structure it provides for my training.
Talk to us about a recent race or your progress in general! How did it go? What were your goals going into it and did you meet them?
Boston was a blast! My goal was to break 3:00. I started out conservatively after being warned against going out too fast, especially given the downhill in the first 10K. Just as I'd heard, the crowd support was incredible throughout the entire race and I loved getting to run through so many different areas. Wellesley was particularly memorable, as were the Newton Hills. My cousin is a student at Boston college, so seeing her as I crested Heartbreak Hill gave me a major boost going into the last few miles.
The final two miles were a grind, but I finished in 2:56:05, which was a PR by over 20 minutes! It felt really special to see my hard work pay off. I was especially grateful to share the success with family and friends who had encouraged and supported me all along the way. The whole weekend felt like a dream come true!
Is there anything you learned from your recent training or race that can help you improve in the future?
Recently, I've been trying to focus more on the mental side of training. I think that's definitely an area where I have a lot of room to improve. Nashville summers can be brutally hot and humid and it's easy to get discouraged. I've been leaning into the idea that training isn't necessarily meant to make running easier, but it's to push myself farther and test my limits. Shifting my mindset has helped me get the most out of my workouts and build mental toughness. I think this will be crucial to my future success.
Who is your coach and what have you learned working with them?
My coach is Andrew Bumbalough and I've learned so much from him! One of the biggest things I've learned from him is the power of consistency. I don't think anything about my training plan is particularly impressive (by design), but being consistent week after week has helped me improve dramatically and stay healthy. That being said, I've learned that not every week needs to be laser focused on training. Andrew builds intentional breaks into my schedule after races and between training blocks to help me recover physically and mentally. Knowing when to buckle down and when to recover has helped me avoid burning out.
What is your handle on Instagram?