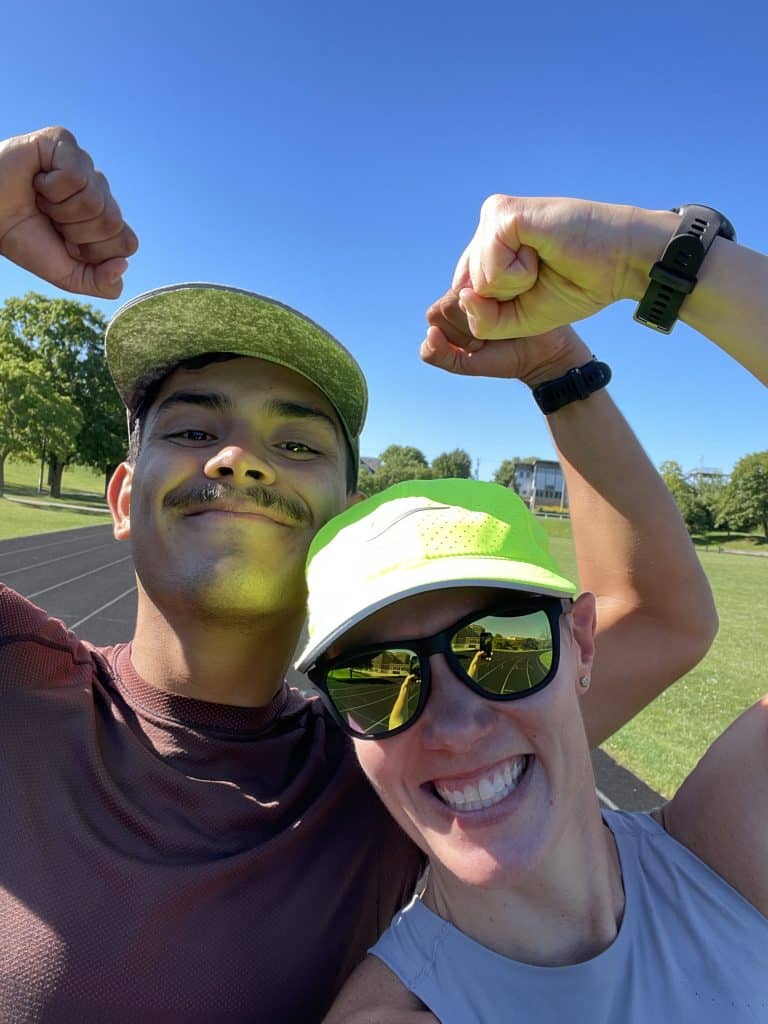 Give us some background info and why you chose your most recent race.
My name is Margaux Chandler and I live and train in Milwaukee, WI. I ran my most recent race on 8/9/22, and it was a 1600M run. My goal time was 6:15, and thanks to excellent coaching, supported by awesome resources, I clocked a 6:06!
Running a fast mile has been a goal of mine for over 12 years. When I turned 30 in 2010, a thought popped into my head that I wanted to run a fast mile when I turned 40. I found distance running as a sophomore in high school and have loved it ever since.
Prior to this recent race, I hadn't run competitively against myself or anyone else since 1998. On my 39th birthday (July 26th, 2019) I hit the track to see how fast I could run a mile. I finished in 6:37 and I declared a goal to run a 6:15 mile the next year on my 40th birthday. Time passed and the pandemic hit, and I pushed this goal to the side to focus on innovating through a number of uncontrollables (I am a mom to two young children and a small business owner). Needless to say, I had every acceptable excuse in the world to put this goal on the backburner, and I did.
About a month before my 40th birthday, my friend and colleague, reminded me of my commitment to this goal, so on a short timeline, I picked it back up and ran a 6:32. I proceeded to train too hard, too fast, and I strained my quad which forced me to stop training.
Fast forward to 2022, and the same person asked me when I was going to run my fast mile. He had recently become an RRCA coach. He's an incredibly talented runner and also the Lead Instructor at my studio. I asked if he would be my coach and he agreed. In April of 2022, we hit the track for a time trial and I ran a mile in 6:25. From April to August, I trained to improve upon this time by at least ten seconds. Ricardo provided me with weekly training plans via the V.O2 app, and eventually we did it! To be expected, we hit a few hiccups along the way, and we had to adjust while making continuous progress, but I was always clear on where I was, what I needed to do, and what was expected of me based on our process of in person coaching and V.O2 planning and tracking.
On August 9, 2022, we hit the track, and I clocked a 6:06! What did I learn through this process? I learned to say my goals out loud and share them with people who will hold me accountable. I learned to slow down so that I could speed up. I learned that to be your best, you need to surround yourself by the best (choose your support system wisely!) Most of all what I learned and what I can share with my children is that whatever it is – if you think you can, and believe you will, work hard and go for it – no regrets!
Did the V.O2 app provide benefit to your training and racing? If so, how?
Absolutely! My favorite feature of the app was that it would actually tell me how long each session should/would take. This definitely helped me better understand how to plan my day and schedule, and it eliminated excuses related to calendar complications.
Talk to us about the race! How did it go? What were your goals going into it and did you meet them?
See above. Happy to provide more detail! My IG handle also include feed posts about this journey.
Is there anything you learned from your recent training or race that can help you improve in the future?
Easy runs need to be easy. Appropriate paces are critical to a strong finish.
Who is your coach and what have you learned working with them?
Ricardo Contreras. Huge gratitude for my coach Ricardo for teaching me how to slow down so that I could speed up, for setting the expectation high and for keeping it there, and for leading me through it by example. I enjoyed the process and I learned so much. Although I definitely failed many times, I also found success.
What is your handle on Instagram?