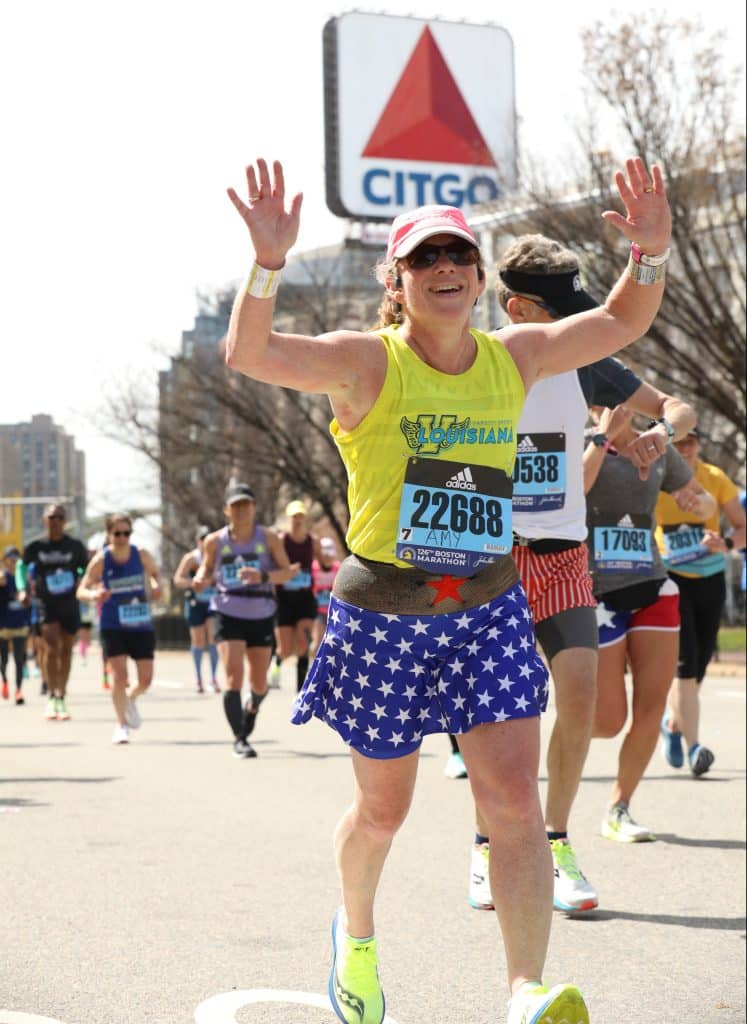 Amy Hall lives in Baton Rouge, LA and trains with the Varsity Sports running group.
How was your training leading into the race?
I tore my right lateral quad in the summer of 2021 and could not start back running until September. I was able to make it through the 125th Boston in 4:25 and tried to run another marathon to improve my qualifying time in November. I did not BQ at that race due to the heat, my injury, and probably trying to run a marathon 3 weeks after Boston.
I reached out to Caitlin Rushlander to see if she could help me put together a plan to run the Louisiana Marathon in January and then start training for Boston in April. Throughout my training, Caitlin understood my injury and helped me regain my strength as well as my speed and confidence. For the Louisiana Marathon, my goal was 4 hours, and as I trained for Boston, we readjusted my goal to 3:55, so my training went well and I improved a lot over time.
Did the V.O2 app provide benefit to your training and racing? If so, how?
The V.O2 app is awesome! I love how it syncs with my Garmin and helps me keep on pace during my training runs. I could also use my data from my training runs and races to adjust my goals and see my progress in my training.
Talk to us about the race! How did it go? What were your goals going into it and did you meet them?
This was my 4th and best Boston finish time. Unlike my previous Boston races, I never felt tired, I never had to walk and I crushed my goal. I was even able to negative split! My goals were to start conservatively and finish feeling strong. Although the weather definitely played a factor in my success, I am confident that my individualized training plan is what helped me prepare for and have such an amazing race.
My original goal was to finish in 4 hours; as time went on, Caitlin and I adjusted that goal to 3:55. One day she told me that although it would be a stretch, she thought I could finish in 3:52 – and I did! I finished in 3:52:26!
Did anything unexpected happen during your training or race?
The most unexpected thing that happened to me is that I never crashed during the race. I typically have problems around miles 22-24, but I stayed strong and my last 10K were my fastest miles – with my last 5K being the fastest!
Who is your coach and what have you learned working with them?
Caitlin Rushlander – Caitlin is amazing; she helped me work a manageable strength training plan into my routine and she helped me work on my mental toughness.
What is your handle on Instagram?