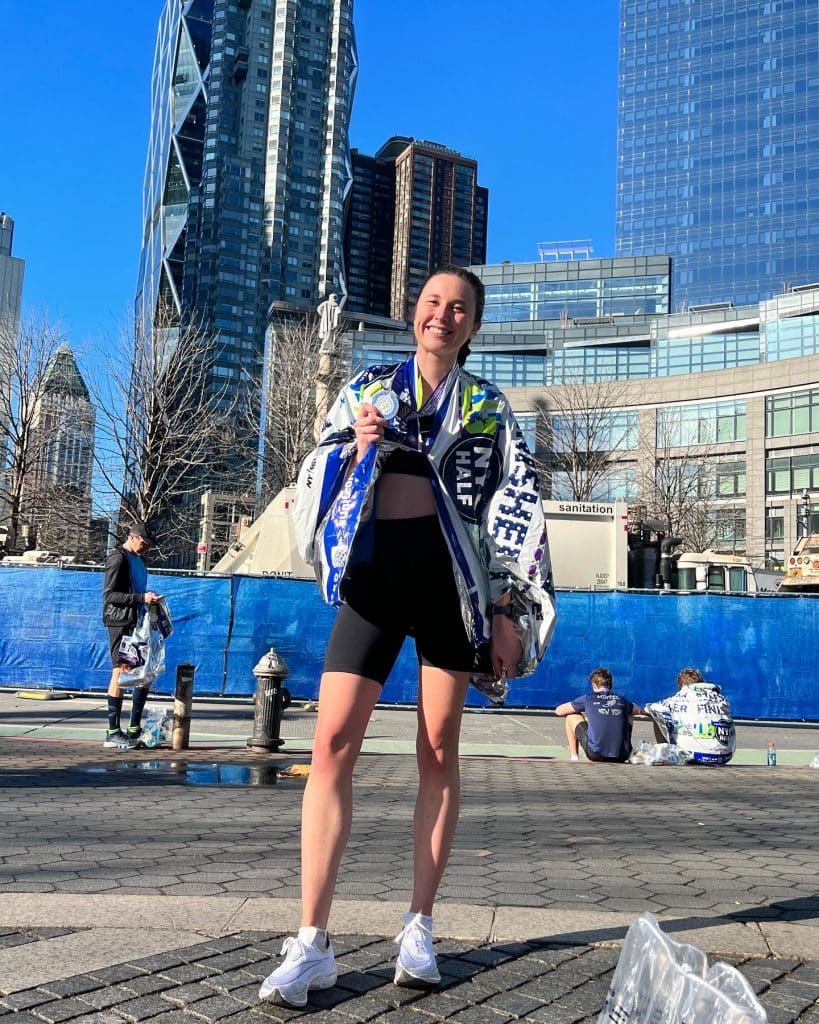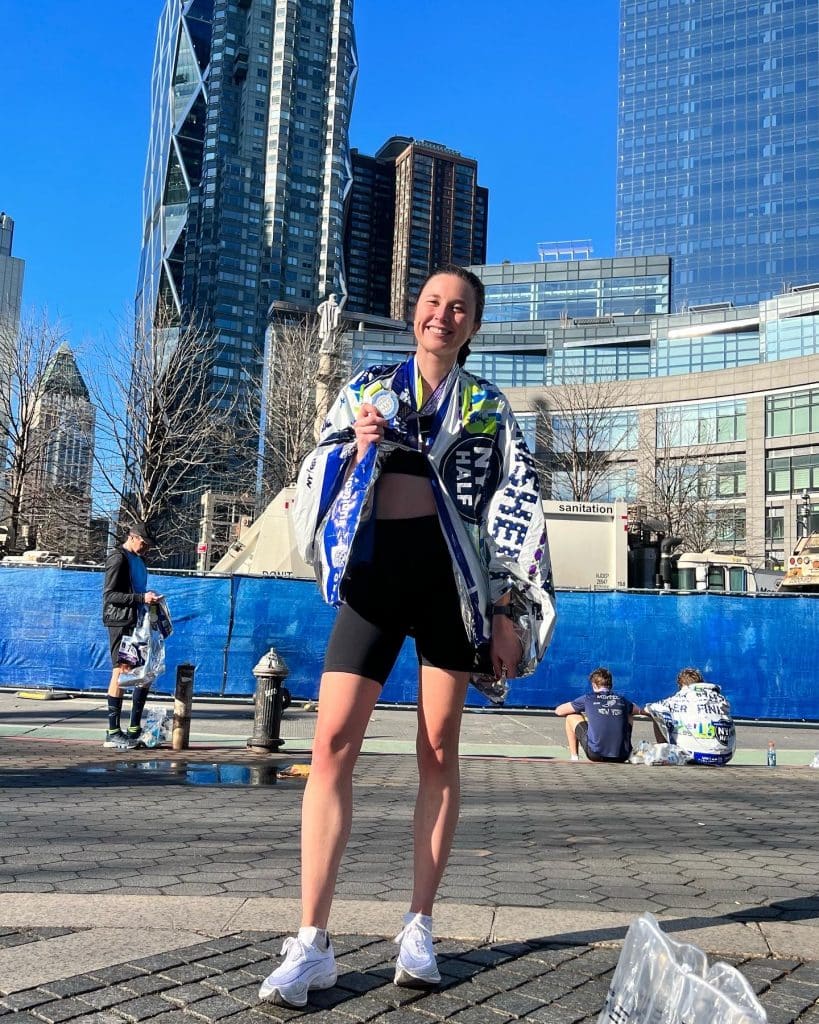 Laine Higgins lives on the Lower East Side of Manhattan and trains throughout New York City. Due to the pandemic and injuries she was unable to race in NYC since 2019 so she chose the NYC Half to "return to racing on a course that showed off why this city is so great to run in."
How was your training leading into the race? Any memorable workouts? Long runs? Moments of existential dread about the impending challenge?
My training was strong and consistent through January and I felt like I was in some of the best shape for running ever. But due to a crazy work schedule in February, the training was a bit more up and down. I was proud of myself for getting 10 rounds of Canova Ks done on a treadmill that faced a blank white wall. When I got back to the U.S. from three weeks in China, I saw a 15-mile long run on the schedule and panicked a bit. I hadn't done any workout that long since August, right before I had strained my MCL while training for the NYC Marathon. That run was the most mentally challenging part of my training because of how it went: I got separated from my pace group around mile 7 and then my watch malfunctioned a few miles later. I couldn't tell what pace I was going or how far I had run. It was only after I got home that I realized I was going a minute faster than my long run pace for 5 miles in the middle and I accidentally ran 2 extra miles.
It was a big confidence boost to know I could get through just about everything going wrong on a longgggg run like that and still persist mentally. Later, one week before the race, I did a workout of 800m repeats with my running team, the Dashing Whippets. I actually love this kind of workout, even though it's tough, and felt like I was flying on the reps and easily running at a pace faster than what I thought I might be capable of holding.
It felt so awesome to experience the fitness gains of months of training during a workout. While riding the subway home from Central Park that evening, I first entertained the idea that maybe I could set a new PR in the race, possibly by a significant margin.
Did the V.O2 app provide benefit to your training and racing? If so, how?
Absolutely — having the paces listed out for every workout and repeat was so helpful. And I knew that on days that I was feeling good, I could push the pace a bit because the half marathon time the paces were based off of was about 3 years old. In the past I've had a bit of trouble taking enough rest days. Seeing the days of cross training and rest in the V.O2 app made me feel more confident in taking days without movement, or without running and trust that I was getting stronger by doing less instead of constantly trying to add more training. Plus, it was a big motivation to check the box in the app once the workouts were completed.
Talk to us about the race! How did it go? What were your goals going into it and did you meet them?
It went amazing! I lowered my PR by over five minutes and felt like I've still got room to get faster on my next race. My main goal going into the race was just to have fun and enjoy the route. I didn't want to put too much pressure on myself about going a specific time at first, but as the race got closer and my training runs felt stronger, I decided to set a goal pace of 7:20 min/mi and, only if I was feeling great, 7:10 min/mi. After the first three miles around 7:00 pace I decided to just go for it. I had a few stomach troubles, but still managed to average 7:12 min/mi for the race. The pace felt smooth and I was smiling the whole time — I've never had a run go by so fast!
This was also the first half marathon I raced without either running injured or blowing up. It was so rewarding to be able to hold a steady pace throughout and see my training pay off. Obviously the last mile is always a slog through the pain cave, but I was having so much fun and was so close to achieving my stretch goal that it didn't even hurt that bad.
Did anything unexpected happen during your training or race?
I went to the Olympics! My 9-5 job is as a sports reporter for the Wall Street Journal. During the thick of training in February, I traveled to China to cover the Beijing Olympics for 21 days. Our movement there was extremely limited, but I was able to keep up with my training on hotel treadmills. Still, these workouts were less frequent and less intense than I would have hoped. But with the help of V.O2 I was able to adjust my paces accordingly, both while I was gone and once I was back stateside in a more regular training routine.
Who is your coach and what have you learned working with them?
Dashing Whippets Running Team
What is your handle on Instagram?