Editor's Note: Malindi Elmore's transition to the marathon was unlikely yet she finds herself competing for a spot in her second Olympics 15-years later. Her story is remarkable. Below we summarize and get a chance to ask her questions about this improbable athletic journey.
After a standout career on the track at Stanford, Malindi made the Olympics in 2004 in the 1500m. She went on to win 15 Canadian national championships and capped off her middle distance career with her second win (1500m) at the Olympic Trials in 2012.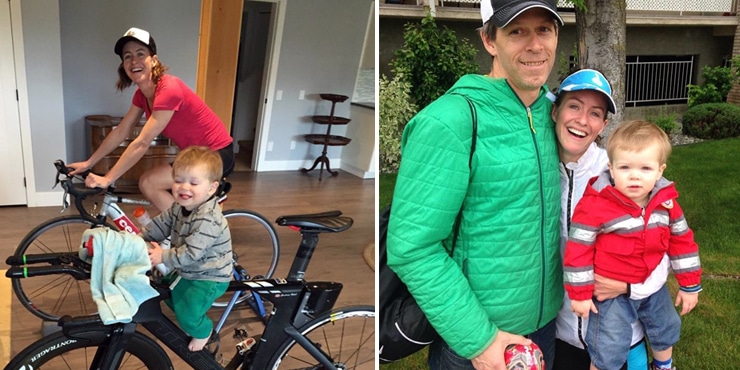 After a successful transition to coaching, she gave birth to her first child (Charlie) in 2014. Then, in 2015, she started competing in triathlons with great success, leading up to her first Ironman (also her first marathon) one year later. She closed the Ironman in 3:00:52 placing third overall in one of the fastest debuts ever (8:57:22).
In 2018, she gave birth to her second child (Oliver) and then made her official marathon debut in Houston this past January. Go, mom, go! At 38-years-old she shocked the road racing scene as the only non-professional in the top 10 with a 2:32:10 finish.
"There were a lot of mornings in October and November that it's cold and dark, and I'm getting up early to go run before my husband goes to work," Elmore recalls. "Some mornings are definitely tough when your kid is up three times in a night."
Seven years after she retired from the sport of track & field she now has her sights on the Olympic Trials at the Toronto Marathon this October.
Interview
VDOT O2: When you retired from track & field did you ever expect to run or race marathons?
Malindi: I definitely did NOT expect to be at this point of seriously racing marathons after retiring from track and field! I thought an easy 90 minute long run was hard and now it is a "normal" day! I love it.
VDOT O2: You had to run a marathon as part of your Ironman competitions but when did you first realize you wanted to give the marathon a shot?
Malindi: I decided to switch to the marathon after my second baby because I didn't have the time to invest in the bike and swim training. I always enjoyed the marathon portion of the Ironman and thought it would be fun to do it fresh (not in glycogen depletion) or with cramping muscles and tight hip flexors right off the bike! Now I find the first 10 km of a marathon fun and easy, which is not how I would describe it in an Ironman!
VDOT O2: What was your goal going into Houston?
Malindi: My initial goal for Houston was to get to the race healthy and finish around 2:40. My goal evolved as my fitness improved through my build-up. However, it did not become apparent to me until my last big workout (2 weeks from race day) that I would be in the sub-2:35 range.
VDOT O2: How has the transition been since you've focused more on marathon training versus Ironman training? Are you still incorporating any swimming and cycling in your training?
Malindi: I definitely run way, way, way more. I did minimal run training with my triathlon focus because I needed to address my weaknesses. I was a good enough runner that I could do a 3 hour marathon without much training but I had to be able to get through the swim/bike first. Now, I pretty much run 100% of my training – I should do some cross training but as a busy mom, coach, etc. I just focus on nailing the necessities.
VDOT O2: What's your mental approach entering this Olympic Trials versus in the past?
Malindi: I feel way less pressure. Trying to make the Olympics is a challenge and something I want to do for fun, but in the past I felt like I put so much of the rest of my life on hold it started to take over the enjoyment of the process. I am loving the training and looking forward to the racing. If things don't work out, I am still very happy and satisfied with my life.
VDOT O2: What do you attribute the most to your current success and transition after all these years to the marathon?
Malindi: I love to run and I love to train hard…and I love to race. I also love new challenges so it is fun for me to try new things. I get excited by the different types of training and preparation required for the marathon.
VDOT O2: What do you like most about marathon training and what's one of your favorite workouts?
Malindi: I love the long gritty marathon workouts. I used to think that marathon pace was "easy" but it is pretty fast (3:30 / km pace is my "goal pace") so the workouts are long and challenging. I like trying to keep my mind in the moment – one km or one rep at a time. It is very satisfying to see all the kilometers and reps stack up and to be able to do something that at one point I thought was impossible.
VDOT O2: What hurts more: the marathon or the 1500m? ?
Malindi: Neither – the 5000m on the track is the toughest! Which is why I skipped right to the long stuff!
Connect with Malindi on her coaching page on the VDOT Marketplace.