The coach-athlete relationship is key when training for optimal performance. It takes more than just good workouts and advice. Here's a great outcome as a result of understanding and appreciation from both sides of the relationship. VDOT athlete Bradley Geilfuss set a new PR by almost 6-minutes (1.6 VDOT points) at the Mountains 2 Beach Marathon.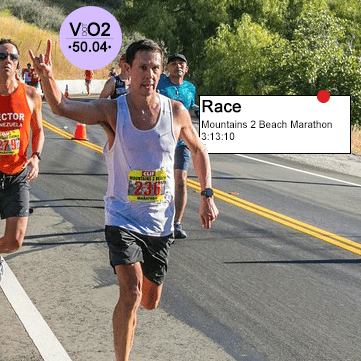 Understanding Your Athlete's Situation
"Bradley is methodical about his commitment to training and 'getting it right'. He set realistic goals and was 100% willing to do the work to achieve those goals. He aims to refine efficiency and specificity to all levels of the process and juggles a LOT in his personal and professional life. I'm consistently amazed and inspired by him (and runners like him) who manage their professional, family and athletic lives so well – achieving success and fulfillment in all three." – Bradley's VDOT Coach, Gary Berard
Appreciating Your Coach's Ability To Adapt Training
"Gary, is unbelievably patient and was able to adapt my training plan to a number of unique challenges this past cycle- from overcoming a bought of pneumonia and waiting out some past injuries, to working with a personal schedule that includes raising a two year old, moving, and switching jobs. Race day strategy worked just about to a tee- no sign of hitting the wall, and I was able to put it all out there for this race." – Bradley
Connect with Coach Gary on the VDOT Marketplace.