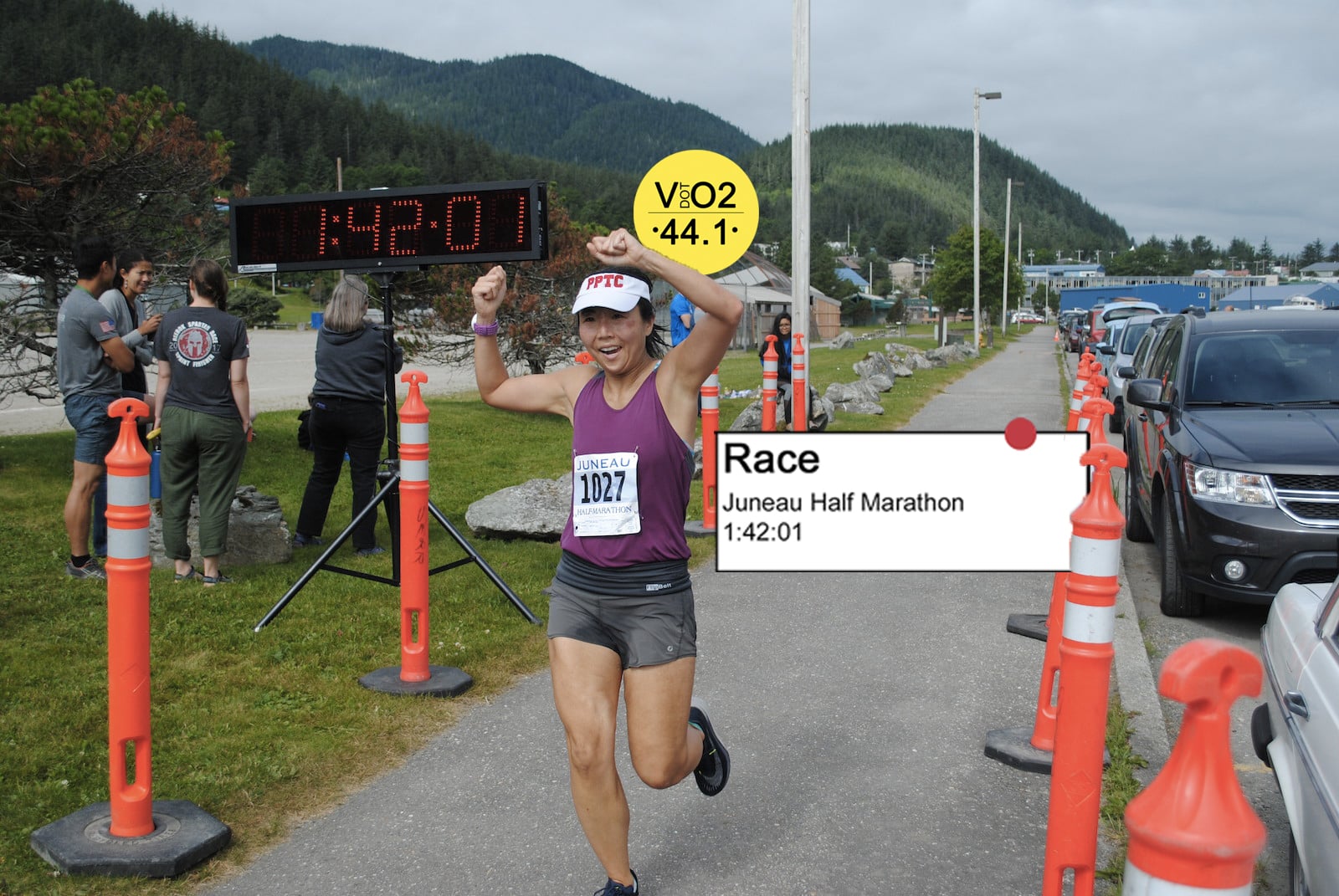 We love featuring great teamwork on the blog. Lillian Park and VDOT Coach Leah Rosenfeld have developed a great coach-athlete relationship over the past year and a half. This weekend Lillian's PR streak continued with a new personal best at the Juneau Half Marathon. It's clear the trust and respect they have for each other is bearing fruit.
Lillian:
"Prior to training with Leah, I was a fair weather racer, meaning that the race conditions had to be close to ideal in order to get an "A" performance out of me. After training with her for over a year, I find that I can summon a great performance even in less than perfect conditions. In this past training cycle, I returned to full-time employment, which greatly reduced availability for training and recovery.

Leah worked with me to help me train as well as I could leading up to the Juneau Half. The race was hillier and the day turned out to be warmer and more humid than I expected. Nevertheless, throughout the race, thanks to the level of preparedness that Leah brought me to, I felt strong and ran with confidence, which led to the second half marathon PR of this year."
Leah:
"Lillian's performance at Juneau Half Marathon was a culmination of her no B.S. approach to training. She isn't afraid to race or endure grueling workouts, and she always gave her best effort no matter how tired she was from her work and travel schedule this spring. Lillian also has excellent race intuition, she knows when and how to push her body and embraces competition with herself and others in the race.

What we've worked on the past year and a half is race planning and the spacing of each one. If Lillian could race every weekend she would, and she used to! But she has been patient with me, with each training cycle, and has the quiet confidence to understand that some races are meant to be workouts as practice for the goal race of the season; this and her mentality have been a huge help in her breakthrough performance."
Connect with Coach Leah on the VDOT Marketplace.