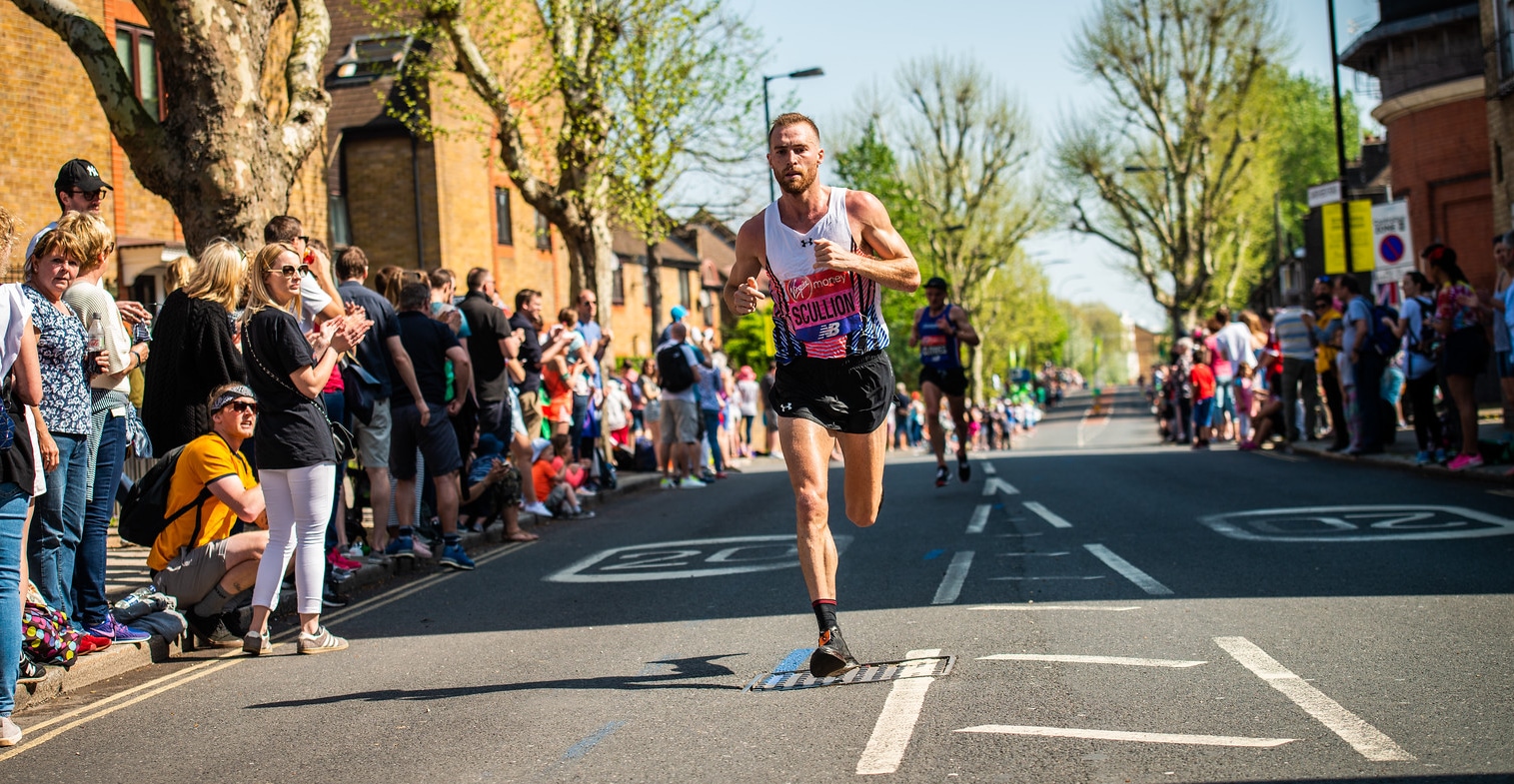 Steady Progress
We caught up with Stephen Scullion fresh off his PB at the London Marathon. Stephen finished 12th overall in 2:15:55 (74.4 VDOT) under challenging conditions [Full Results]. In fact, to show you what a huge effort it was we did a temp adjustment (72 degrees) on the VDOT Calculator and it converts to a 2:13:11 effort. Despite the heat Stephen also managed to run evenly with half marathon splits of 1:07:48 going out and 1:08:07 coming back.
This performance marks three years of steady progress in London. He finished in 2:20 in 2016, 2:17 in 2017 and now 2:15 in 2018. According to the BBC, this new PB puts him under Athletics Ireland's European Championship mark of 2:17:00.
It's always great to see our coaches leading by example in their own training/racing so we were excited to pick Stephen's brain about how he got here and learn more about his approach as both an athlete and coach.
Athletic Perspective
VDOT O2:  How did you get into running and when did you decide you wanted to pursue it professionally?
Stephen Scullion:  I started out in athletics a long time ago, perhaps as early as 2000, in little school. Then, as I started to improve in high school, that gave me opportunities to meet athletes better than myself, and also meet coaches who had been helping international athletes. It was essentially a process of hard work and opportunity that I met the right influences in 2006 (I won the Irish Junior cross country title and made Ireland World cross country squad), which allowed me to start reaching my potential. However, it wasn't until 2015-16 that I was physically and mentally ready to train like a professional, and change my lifestyle to replicate that of a professional athlete.
VDOT O2:  What are your biggest challenges training as a pro athlete?
Stephen Scullion:  For me personally, it has always been the overall lifestyle that works alongside training like a professional. I don't think it would come as a surprise if I started to explain the Irish party/drinking culture, and so for me it was always difficult to find a balance between training hard and lifestyle choices. Essentially, I was a part-time professional runner Monday through Friday, and then hit or miss on the weekend. I'd often party Friday night until 2am, or later, and then struggle with motivation. Now, I'm a little older and much more focused on my running, so it's not a sacrifice anymore to treat my weekends like the rest of the week.
VDOT O2:  What do you consider the key difference makers in your recent progress as an athlete?
Stephen Scullion:  100% my attitude on a daily basis to my training/lifestyle, and how I handle both good and bad days. I don't start getting excited after a few good days because I respect that this is a long term process. My attitude on bad days is that it takes a lot of bad days to change my performances. I don't allow one or two bad/difficult training sessions, or races, to change my self-worth or how I rate myself. I think it's unhealthy that most athletes allow one or two bad races or training sessions to really hurt their motivation to keep trying to be successful. To me, it's like, "Take it on the chin, and keep going."
Overcoming Conditions In London
VDOT O2:  In terms of race execution what were the difference makers in London?
Stephen Scullion:  I fueled every 5km and didn't skip any of my drinks (ordinarily I'd miss a few, as it's easier to miss them). Similarly, I went into the race with a slightly lower expectation, and decided to run with a sensible attitude and not get carried away. I have a much greater respect for the marathon distance, and I think to myself ok, lets look good for the supporters at mile 22/23, not the supporters early in the race. London isn't a super easy course at all, there's a very lonely section around mile 15-18 type area, and I had to really dig deep in this section mentally to stay focused.
VDOT  O2:  Besides hydrating sufficiently during the race was there anything else in your final preparation or during the race to help mitigate the heat effects.
Stephen Scullion:  Luckily, I had watched the Gold Coast Marathon the week previous, and so I picked up a few things watching that, i.e. high temps can really destroy your race. Besides sipping on water every mile I decided to also empty a bottle over my head, which probably helped a lot. That said, it made my vest, shorts and shoes heavy, which was annoying, but better than being cooked. I also hydrated well 3-4 days prior to the race (supposedly it can take 3-4 days to hydrate fully).
One important factor was my goal in the race, which was to hit the European Championship qualifier, and no more. Had it been 50F and a tailwind, I was always crossing halfway in 68.00, or close to that. So to be honest it just changed how fresh I was at the half. Instead of being really comfortable, I was probably operating very close to 100%, and therefore couldn't negative split. I feel like I was probably fit enough to run 2.13.30-14.00 so the heat probably slowed me down.
Coaching Perspective
VDOT O2:  How did you get into coaching and what do you love most about it?
Stephen Scullion:  I started coaching around 2012. I realized how lucky I was to meet some incredibly good coaches. I've often seen very talented athletes slip away from athletics due to lack of coaching, or good advice. I believe my training is solid, and some of the sessions that my athletes will do are great sessions. But actually it's the little pieces of advice on a daily basis, or weekly review that separate my training from others, or templates, etc. I've made a lot of mistakes, and often learned the hard way what not to do so it's nice to be able to pass that knowledge on to help others not make the same mistakes.
VDOT O2:  What's your general coaching philosophy (how would you sum it up)?
Stephen Scullion:  The training you do tomorrow is more important than the training you do today. This is a very important factor in running.
Pure and simple, to perform at your full potential you need to build weeks and months of consistent training. If you overcommit to any single day of training you might risk health and injury, and therefore have to miss tomorrow, or the next day, etc. Finding a balance between hard work and recovery is key. Learning how to push yourself without overdoing it, or learning how to hang back just a little to make sure you stay healthy for tomorrow is important.
Finally, understanding training is only beneficial if your body absorbs the work you're doing; if you overcommit to certain days and find yourself overextending there's no guarantee the body will absorb that training session, recover and improve.
VDOT O2:  What do you like most about VDOT O2 (methodology and/or app)?
Stephen Scullion:  I previously found myself getting hurt fairly regularly because the balance between hard days/weeks was outweighing my recovery time. VDOT O2 helps keep track of workload, volume, and feedback. This helps both athlete and coach find a good balance and ensure optimum training. I've found it easy to help athletes, build their most consistent weeks/months of training, and ultimately lead to PR results and breakthroughs perhaps they didn't feel would be possible. 
Stephen's Coaching Bio
My personal coaching is based on what I've learned from some of the best coaches in the world, and competing for over 12 years as an international athlete. It is my hope that with my knowledge, and your passion, we can start to see your results slowly improve. With consistent training and smart execution, we can ensure you build some strong weeks/months of training, which in the end will provide your best results. Lets start building together.
To learn more or inquire about Stephen's coaching services connect with him on his profile page on the VDOT Marketplace.