Run SMART Project Coaches
---
The Run SMART Project, featuring head coach Dr. Jack Daniels, is a group of professional VDOT Certified coaches working together to help runners of all levels reach their goals. Currently, Run SMART's coaching staff consists of current or former distance running standouts including Olympians, national champions, sub-4 minute milers, etc.
Run SMART's individualized coaching model is a proven success for runners trying to get faster. Sign up now and begin working with a Run SMART coach on the VDOT O2 app! 
I began coaching through a local running store in Charlotte, North Carolina shortly after finishing my college career. I was fascinated by the different circumstances that people had to deal with in their everyday lives and how those circumstances influenced their training. In time I realized that there are several factors that make an athlete/coach relationship successful. As with any relationship, there must be a mutual respect and understanding. I always start by getting to know a prospective athlete. I have found that knowing a person as an individual plays as significant a role in his running success as knowing him as an athlete. Family, school, work and the general details of life all factor into our running, so ignoring those aspects when considering training time and intensity can lead to a sub par performance on race day. I have found that being flexible as a coach plays a primary role in the success of my athletes.
As a runner, I continue to strive to get the most out of my ability. Though my running career has had its highs and lows, I believe that the obstacles I've faced along the way allow me to better understand what my athletes go through, and ultimately make me a better coach. I am currently living in Flagstaff and have had the opportunity to learn from Dr. Jack Daniels and renowned therapist Phil Wharton, of Wharton Performance.
Check out Vince's:  News, Tips and Client Results
Athletic Accomplishments
Track

2001 Conference USA 10k Champion
2001 NCAA Division I Provisional Qualifier
5000 Meter – 14:02

Cross Country

10k – 30:18
8K – 23:55
Four-time All Conference selection
1999 NCAA Championship Qualifier
Malindi Elmore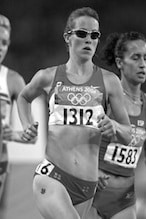 I am thrilled to be part of the Run SMART project and to have the opportunity to help athletes of all abilities to achieve their athletic goals. As a long time high performance athlete, I have been fortunate to have been exposed to many of North America's top coaches and sports professionals – physiotherapists, strength and conditioning coaches, physiologists, nutritionists, sport psychologists; one of my greatest desires is to share my knowledge, ideas and resources with fellow runners. I believe that with a purposeful and individualized plan, athletes can achieve personal performances that exceed their expectations. However, it often takes a coach to detect the large and/or small changes necessary to make the difference between euphoria and disappointment following a race. I love running and am delighted to help other runners achieve their goals!
My goal in coaching is to build a strong foundation of trust and communication, while also establishing a firm understanding of the athlete's strengths and weaknesses. In many cases my role is to challenge the athlete to take on new training stimuli while still adhering to the overall principles of periodization and peak training. I am very keen on balancing hard work with appropriate recovery and regeneration, in addition to advising on the many technical details that are often overlooked but are key to optimal performance, such as strength, core, technique, nutrition, stretching, race strategy, visualization, cross training, etc.
Check out Malindi's:  News, Tips and Client Results
Athletic Accomplishments
2004 Olympian in the 1500M
Bronze Medalist Pan American Games
Canadian Championship Record Holder in 1500M
15-time Canadian National medalist
1500M – 4:02
5K – 15:12
10K – 33:00 (Road)
8:57:22 Ironman Debut (3:00 marathon split)
It is my desire to combine my experience as an elite runner, my educational background in Human Biology and Nutrition, and my passion for coaching in a meaningful way to help others achieve their goals. Currently I train in the beautiful mountain town of Flagstaff, Arizona. I am fortunate enough to be surrounded by an incredible running community that includes the world-renowned physiologist and coach, Jack Daniels, many Olympic level runners, emerging elite runners, and arguably the nations strongest contingent of "weekend warriors"!
I am excited to continue and expand my relationship with the sport of running through the Run S.M.A.R.T. Project. Regardless if your interest in running is for the purpose of getting in shape, weight loss, training for an upcoming race or seeking to exceed your personal records I am confident that we can work together to accomplish your goals. Whether you are a novice or an expert I believe that I have the tools to help you successfully combine a training or nutritional plan within your current lifestyle and schedule. Please let me know how I can help you begin to accomplish your goals!
Check out Alicia's: News, Tips and Client Results
Athletic Accomplishments
Two-time NCAA 10,000m champion
NCAA 10,000m record holder
2007 USA 20 km champion
USA Olympic Trials 10,000m 4th place finisher
5,000m: 15:25
10,000m: 32:19
Alvina Begay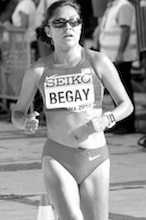 My running career has blessed me with wonderful experiences like working with some of the best psychologists, physical therapists, dietitians, doctors and coaches (including legendary coach Alberto Salazar) in the sport.
Running has been a big part of my life for as long as I can remember. I watched my father compete when I was a little girl and carried on the family tradition of running and competing at a high level. I ran at Adams State College for one year before transferring to Arizona State University. I graduated from ASU with a degree in nutrition and later became a Registered Dietitian. My goal is to help runners achieve their goals by means of consistent communication and creating customized training plans that best suits an individual's schedule and lifestyle.
Check out Alvina's:  News, Tips and Client Results
Athletic Accomplishments
3-time Olympic Trials Qualifier (Marathon, 10K)
Member of Team USA in the 2012 IAAF World Half Champs
2007 ING New York City Marathon 10th Place
10K PR – 32:34
Half Marathon PR – 1.12.25
Marathon PR – 2:37.14
Rod Koborsi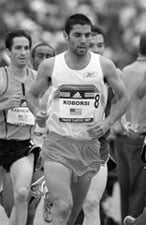 The experiences I have had running are one that I hope everyone has at some point in their life. The beauty of running is that it can both calm us but also challenge us to reach new limits. Running helps us think more clearly but can also separate us from reality.
I ran at Georgetown University where I was an 8-time All-American. Post-collegiately, I was fortunate enough to run professionally with Reebok and competed at the 2008 Olympic Trials in the 5,000m. Since 2007, I have worked as an Assistant Coach at my alma mater, Georgetown University, where I typically worked with the distance team.
My goal is to help everyone get the most out of running through an individualized training program that takes into account your goals, previous running experience, and work schedule.
Check out Rod's:  News, Tips and Client Results
Athletic Accomplishments
2nd 2007 USA 5k Championships
5th 2008 USA Half Marathon Championships
Eight-time All-American
Five-time BIG EAST Champion
3,000m: 7:46
5,000m: 13:26
10,000m: 28:30
Half-Marathon: 1:03:53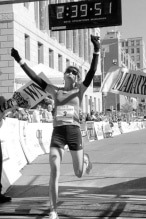 The majority of my lifetime has involved some aspect of running whether it's spectating, training, researching or coaching.  Every day I look forward to lacing up my sneakers.  My greatest joy of the sport is exceeding expectations. As a high school senior, I ran a 27-second PR in the 3200 meters to become a PIAA state champion. During my senior year in college I was on crutches in mid-March due to acute tendinitis but ended up a national runner-up two months later. I was told I did not have the stride of a marathon runner but qualified for the Olympic Trials in my marathon debut.  Most recently, I broke a 25-year-old record in a 9-mile race just 3 1/2 months after giving birth.
Successful runners and coaches understand both the mental and physical aspects of the sport. As a wife, mother, high school teacher, runner, and coach, I understand the pressures of everyday life and the challenge of committing oneself to a healthy lifestyle. I truly enjoy seeing those around me believe in themselves and succeed, and I look forward to coaching those who are dedicated to reaching their goals. Through The Run SMART Project, I will develop a personalized plan for you that accommodates your schedule and brings out your very best.
Check out Heidi's:  News, Tips and Client Results
Athletic Accomplishments
11-time Division III All-American and 1500-meter National Champion
2-time Steamtown Marathon winner and record holder
2-time Olympic Trials Marathon qualifier
Marathon – 2:39:48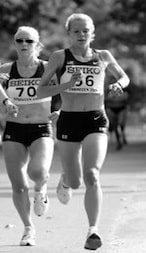 I became involved with Run SMART out of a desire to return to coaching and use my experiences to help other runners achieve their goals.  As coach of the women's cross-country team at the University of Dayton from 2004 to 2010 my favorite part was seeing the athletes improve and develop a passion for running. After stepping away from collegiate coaching to spend more time with my 2-year-old son I am excited to work with runners again and develop individualized training plans that will fit their lifestyle and goals. I also enjoy using my educational background in exercise science to apply training principles.
I have raced professionally since 2002 running races all across the nation. My experiences racing and training help me relate to other runners and be a better coach. I have been exposed to many different training theories and plans and know that there is no one size fits all plan. I am eager to work with runners to find the right plan and help them run personal bests.
Check out Ann's:  News, Tips and Client Results
Athletic Accomplishments
7th place at 2008 Olympic Trials Marathon
2011 Columbus Marathon Champion
5k – 16:19
10k – 33:36
Half Marathon – 1:13:46
Marathon – 2:34:46
Janet Bawcom
My journey into running, and coaching, has been anything but straightforward. I played several sports growing up, but I started running after high school following a chance encounter with 1988 Olympic Gold medalist Peter Rono. I eventually earned a scholarship to Harding University where I progressed from running 20 minutes for 5k to winning three NCAA National Championships.
After graduating from college, I continued to run recreationally, and my husband and I relied on Daniels' Running Formula to guide my training. I continued to progress, and by 2010 I had improved 2-minutes on my 10k PR, run a 1:10 half marathon, and won races throughout the US and abroad. I decided I would like to let someone else advise me on my training, and in 2011 I began working directly with Dr. Jack Daniels as my personal coach.
Under Jack's watch I have won 10 U.S. Road Racing Championships, set two American Records, and earned a spot on the 2012 U.S. Olympic Team. My journey from non-runner to Olympian, and my experience working directly with Jack, have given me a great deal of experience to draw from, and I love the opportunity to help my clients benefit from my experiences while pursuing their own running dreams!
Check out Janet's:  News, Tips and Client Results
Athletic Accomplishments
2012 US Olympian – 10,000m
2011 & 2012 USA Road Running Circuit Champion
1500m: 4:29
5000m: 15:22
10,000m: 31:12
Half Marathon: 1:09:55
Leah Rosenfeld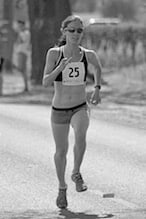 My passion for running and coaching started at a young age. As a child of two marathoners who owned shoe stores and hosted charitable road races, I was born into the running lifestyle.
After a less-than-ideal soccer try-out freshman year of high school, I decided to pursue cross country and track and field, where a true love and appreciate for the sport was formed. I went on to compete in college at Penn State University, where some career highlights included: winning the Iona Meet of Champions Cross Country 6k, being a part of the school record 4x1500m relay and being on the Top-10 All-Time list for the 1500m. I graduated with a degree in Communications with an emphasis on Media Studies/Journalism and Kinesiology. 
My coaching career began in 2010 at Lodi High School in California and took me around the country to Syracuse University, and then to Northern Arizona University (NAU) for the past 4 years.
At NAU I learned from tremendous athletes training at high altitude and from the coaches that got them to the starting line healthy and ready to race! I was fortunate enough to work with an incredible women's team who won the Big Sky Conference Cross Country Championship in 2014 and had several Big Sky Championship individual titles and NCAA Regional qualifiers during the track season throughout the 2014-2016 seasons.
Recently, however, I came to the realization that the more time I invested in collegiate coaching, the further away I got from my dream of running professionally. Fortunately, as a coach for The Run SMART Project, I am able to pursue both dreams of coaching and running professionally! As an athlete for Team Run Flagstaff Pro, I am now training to compete on the track and the roads. I have raced every event from the 800m to the half marathon and will focus more on the 1500m and 5,000m with the help of my new coach (and current Run SMART Coach) Vince Sherry.
The time I spent working at the high school and collegiate level has helped me immensely as a coach and athlete—as I have learned and absorbed the many physical, mental and emotional complexities of training, racing, recovery, and lifestyle for athletes of all ages and abilities. Being able to share experiences with other athletes and help them accomplish their athletic and life goals is one of the most rewarding opportunities! I am so grateful to be a part of The Run SMART coaching community, and I truly believe in the consistency, longevity and success that this program will bring to one's running career and all aspects of life.
Athletic Accomplishments
1500 4:22

3000 9:30

5000 16:36

6k XC 20:39
Half Marathon 1:20:43
Jay Bawcom
Like many Run SMART clients, I came to running after a lifetime of participating in team sports, and I found myself coaching when I was asked to start a cross-country team as part of my first teaching job. In that role I found that I loved the opportunity to help individuals find success in personal improvement, not just in our team's wins or losses. From there I spent the next several years coaching at high schools in the US in Kenya, and I had the opportunity to work with and learn from athletes of all levels – and to work alongside some of the best coaches in the country and even the world.
When I left teaching several years ago, I found myself with the unique opportunity to help my wife, Janet, implement the training programs she'd gotten from her coach, Jack Daniels. I had always used Daniels Running Formula as the basis for my teams' training, but to learn the system directly from Jack took my understanding to an entirely different level.
I am grateful to be able to take what I've learned from these experiences and put it into my efforts to help my clients achieve their goals in running!
Coaching Accomplishments
17 years of coaching experience
USATF Level 1 Certified

Two high school XC state titles

Five individual track & field state titles 

Credentialed coach 2012 Olympics