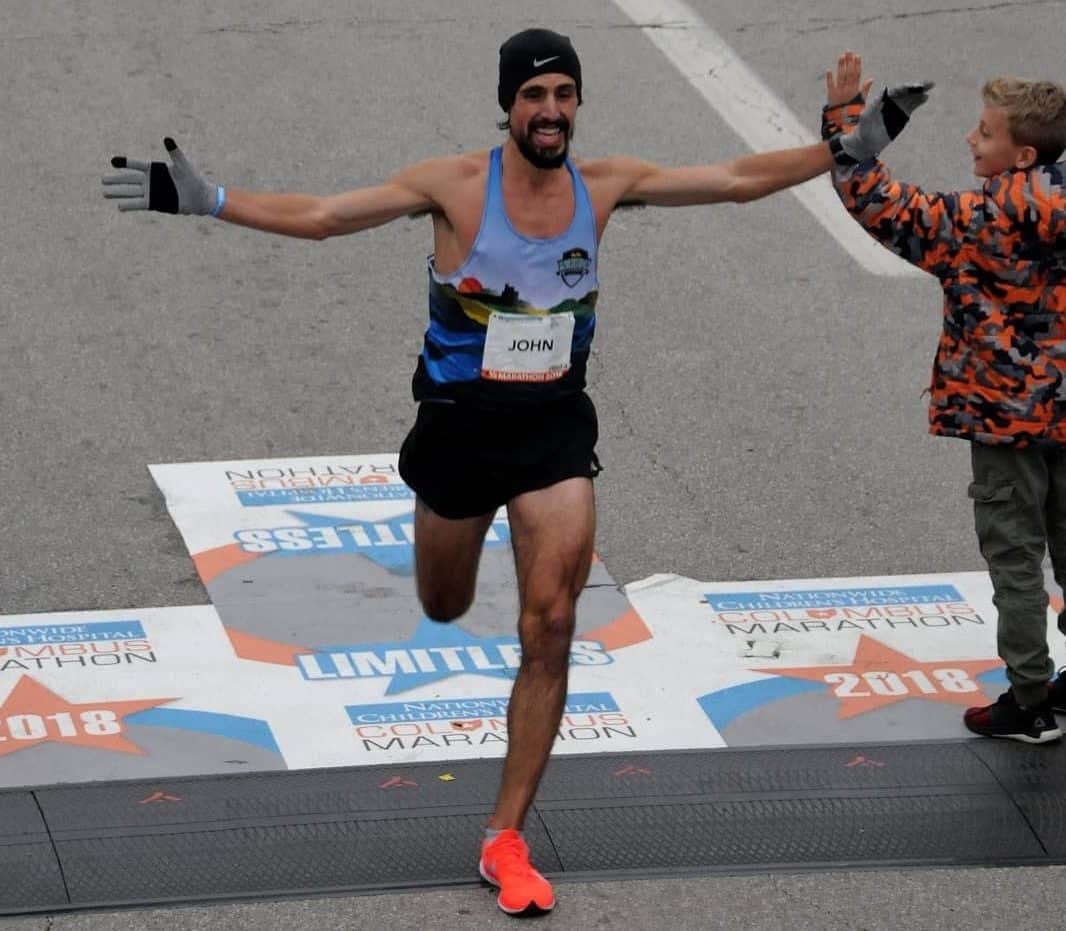 John Raneri, athlete and coach for McKirdy Trained, qualified for his second Olympic Trials at the Columbus Half Marathon. The 26-year-old from New Fairfield, CT finished 2nd overall in a new PR of 1:03:49. [Full Results]
Afterwards, John reflected on his race and gave thanks to his coach:
As James and I discussed, we decided not to be too aggressive early on. First three miles roll by—4:59, 4:55, 4:48. (I needed 4:52 average to run under 1:04:00) By mile 5, I picked up a racing partner. I knew exactly what to expect with the hills because James had done his homework on the course. There were no surprises and I was ready! We were clicking away 4:46-51/mile and I felt amazing!

Cruising into the home stretch, I had my 'ah ha' moment (they don't come often). All of my training culminated into something truly special. 160 meters away from qualifying for my second Olympic Trials, so many emotions ran through me and I soaked in the moment. This was greater than racing. I thought of my grandfather (who recently passed), my family, friends, and how proud they were of me pursuing my passion.
We recently caught up with John to learn more about his recent progress. Ever since he started working with Coach James McKirdy on VDOT O2 he's been on a tear. This past season he's set new road PRs for the Half (1:03:49), 10k (29:58), 8k (23:19), 5k (14:24), 2 mile (8:53), 1 mile (4:09). It's always great to see a coach jump-start his running by working with another coach. 😉
Key difference makers in his recent progress:
In the past, I cared too much about being perfect to the point of sabotaging my own performances. I've learned to let go, immerse myself in the process, and detach myself from the results. At the end of the day, it's only running. There's something purely awesome about this perspective. As runners, we are inherently tied to the notion that self worth is dictated by our performances. Fortunately, it doesn't have to be this way. Love the process and the process will love you back.
How having a coach has helped him develop as an athlete:
Being a coach means so many things:  being a leader, creating the right environment for necessary improvements, and setting the stage for success. Having a coach provides a sounding board for the best and worst ideas. It allows for an objective thought process in the planning stages. I love working with James because we make a great team. We feed off each other's energy and expectations, and will always take the route that will best facilitate long term success. We don't need to reinvent the wheel when it comes to a strong coach/athlete relationship.