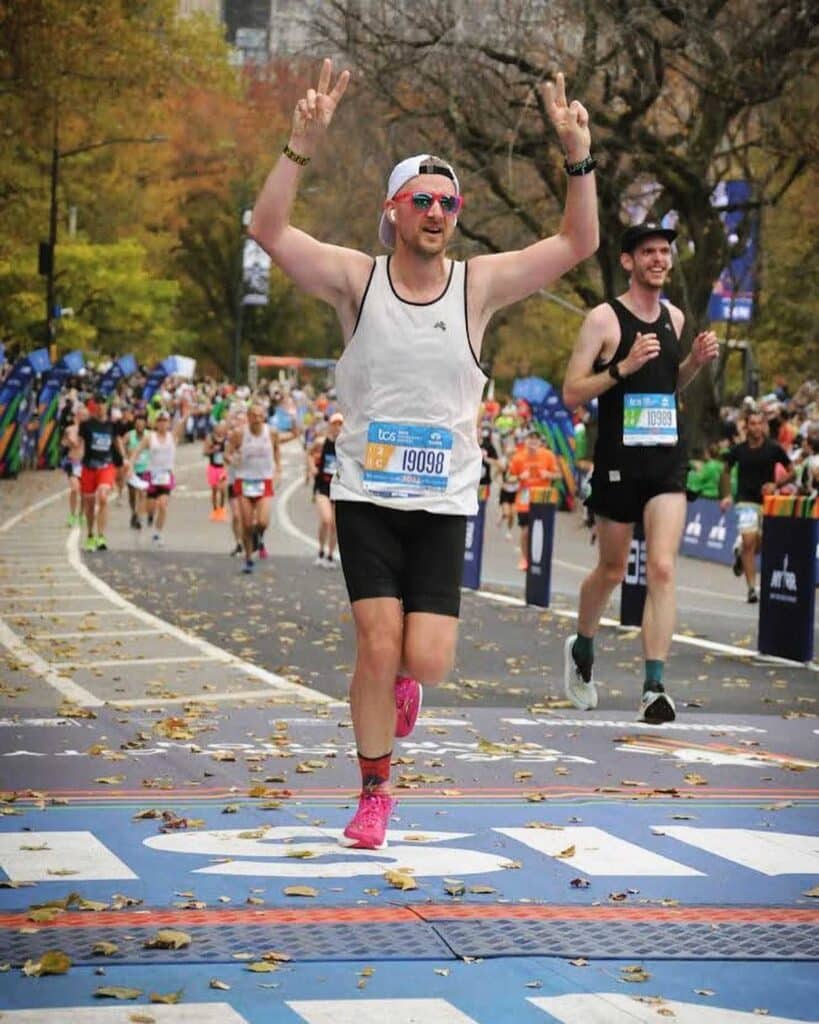 Karsten Black lives and trains in Pewaukee, WI. He recently set a new personal best at the NYC Marathon finishing in 3:38:49 (after this interview).
How was your training leading up to the race?
Training was on point. Consistent and overall, awesome. My coach has an amazing ability to interpret and use data from the app along with feedback from (me) the runner to design a meaningful and effective training plan, all while making adjustments along the way to tailor my plan to my performance in real time.
Did the V.O2 app provide benefit to your training and racing? If so, how?
Yes. Seeing the training progression and living the results is immensely helpful. Being able to use real data to make informed choices and set realistic training goals helps with building a specific race plan to achieve those goals. What a confidence boost!
Talk to us about a recent race or your progress in general! How did it go? What were your goals going into it and did you meet them?
Progress has been incredible. With the use of the app, along with real live coaching I have been able to break through the plateau and see the gains in my running which I had previously been lacking. Prior to using the app and the coaching I was feeling so frustrated but now I am so happy I made the decision to go this route. My recent half marathon is part of a larger full marathon training plan I am currently wrapping up (taper time!). This race was a sort of "shakeout" run to ensure we are on the right track. Not only did I PR, but I now am riding the high of a huge confidence boost. I executed to plan and in doing so negative split the race. Not to mention, I didn't feel emotionally disappointed or physically trashed at the end of the race. I realize this won't always be the case, but in this instance everything went to plan.
The process of consistent training, executing my prescribed pacing and race plan achieving a PR in the half marathon has resulted in a feeling of confidence and excitement going into my full marathon in just a couple of weeks.
Is there anything you learned from your recent training or race that can help you improve in the future?
Yes! A positive mindset is huge. Sounds idealistic and it is in some ways. But using a training plan has helped me stay focused and goal oriented. Rolling with the ups and downs and accepting/trusting the process has helped me stay positive throughout the ride. Also, consistency is key. Just show up. Lace up the shoes and take the first step.
In most cases, the body and mind will respond and you will find yourself on the way to meeting your goals. Using data in the app to make good/educated choices and visualize performance/progression is another big part of it. This plays into the bigger picture and is just one important component to it all. Coupled with proper diet, rest, mental health… when you have good inputs, you receive good outputs. Being able to see that I am making progress and moving in the right direction even when it doesn't feel like it is a huge motivator and confidence booster for me. It helps keep me "in the game" mentally and helps to fuel my drive forward.
Who is your coach and what have you learned working with them?
Coach Michael Crouch. This man is phenomenal. I cannot recommend him enough. I have learned to trust the process, follow the plan, stay positive, stay rested and watch the magic happen. I have so much confidence in myself and in my coach's abilities. After seeing the results, trusting the process and achieving so many goals already, I cannot say enough positive things about my experience with my coach.
What is your handle on Instagram?