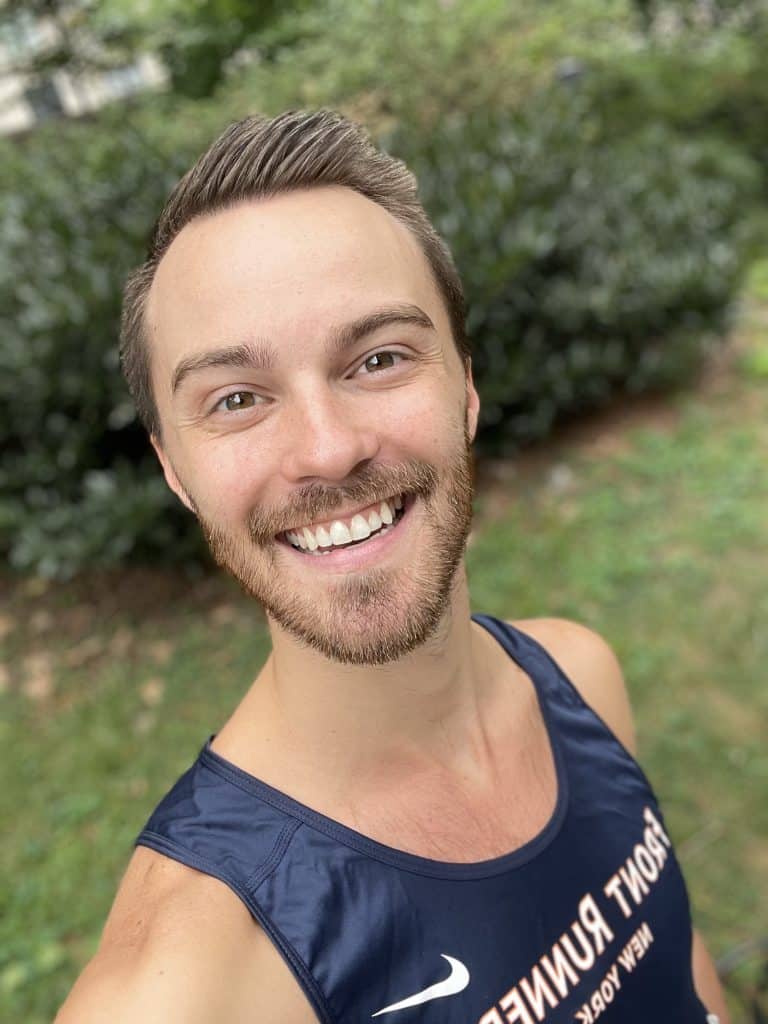 Nick Dill is a non-binary runner in NYC. Nick has mostly been doing marathon training cycles but this fall/late summer he decided to "spice it up" and try for a shorter distance. He recently ran the 5th Ave Mile in Manhattan and the NYRR Bronx 10 Mile a week later.
How was your training leading up to the races?
My training has been fantastic. I always hate running in the summer NYC heat and humidity, and for some reason this summer felt particularly bad. There were days where I felt like I was plateauing, but as the weather cooled right before race day, I felt a little extra pep in my step. I asked my coach to do the impossible, which was to train me for both a mile and a 10 mile race simultaneously. He provided me the structure and workouts to excel at both. We kept milage up for the 10 mile training, but he also scheduled faster speed workouts to benefit my mile time. It was fun and different for me, and I ended up crushing both races.
Did the V.O2 app provide benefit to your training and racing?
I have been using V.O2 since May of 2021 and it has absolutely changed my life. I started working with Nick Hilton last year to train for the Chicago Marathon, and his guidance and the V.O2 app helped me gain a 17-minute PR. I was so thrilled that I had to commit to more. I worked with Nick again for a spring marathon as I was hungry for a BQ. I ended up crushing the San Diego Marathon in June with a sub-3:00 race. It was not only another 14+ minute PR, but my very first BQ.
Working with Nick on V.O2 has helped me shave over 32-minutes off my marathon time, and in the process lead to PRs across all distances. I am so thankful for the structure and training Nick has provided me. His guidance and the paces provided in the app have truly revolutionized my training and performance.
Talk to us about a recent race or your progress in general! How did it go? What were your goals going into it and did you meet them?
My most recent race was the 5th Ave Mile and the NYRR Bronx 10 Miler a week later. I have been very marathon focused for the past few years, so it was fun to train for different distances. I hadn't raced either distance in a while, so my goal was to PR in both. I feel like I'm a different runner now than the last time I raced these distances – smarter and stronger. I ended up excelling at both races, thanks to Nick Hilton.
I shaved 11 seconds off my mile for a new PR of 5:08 at the 5th Ave Mile. It was so freeing, yet challenging to go out and basically sprint from the start line, which is not something I typically do with marathons. At the Bronx 10 Miler, I was feeling great at the start and perhaps went out a little too fast from the gun. A few miles in I realized my mistake, but I was able to pull back, trust my training, and stick with it for another PR of the year. I finished the race under my predicted V.O2 time, and ended up placing 2nd overall in the non-binary category. NYRR later apologized because the course was actually .13 miles long, so I ended up running even faster than I thought!
Is there anything you learned from your recent training or race that can help you improve in the future?
Throughout my time working with Nick, I have learned patience. Not every run is going to be great, and not every race is a PR. With that being said, every step along the way is worth it. Nick has helped me learn not to start every race too fast, and although I let that lesson slip during the Bronx 10, it was a nice reminder to listen to my body and trust the training.
Who is your coach and what have you learned working with them?
What is your handle on Instagram?