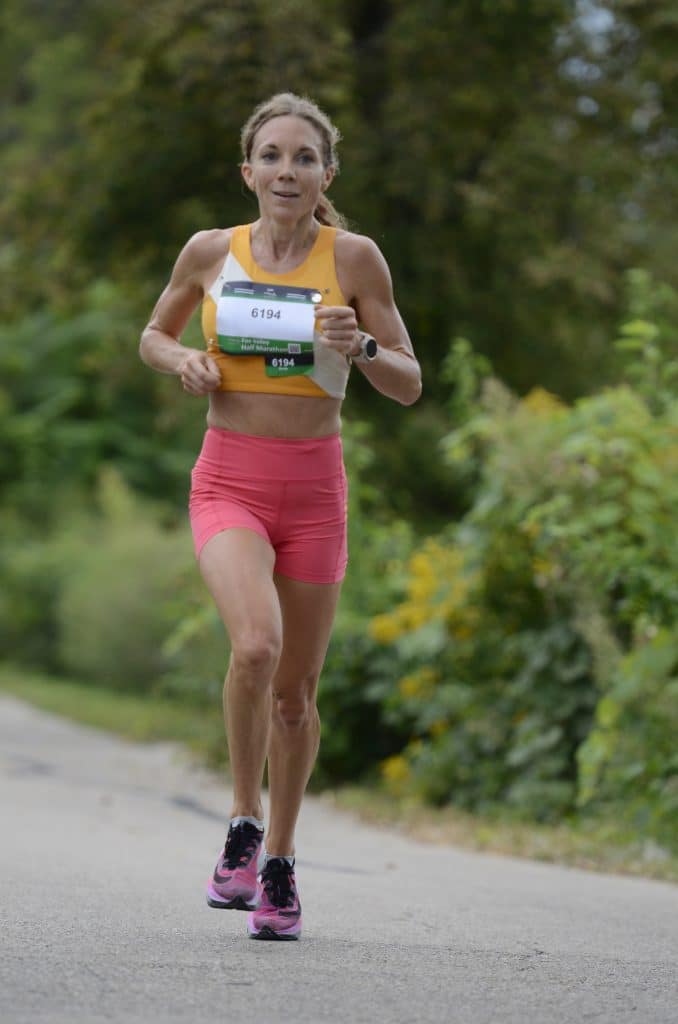 Kristin Dailey lives in Elmhurst, IL (20 min west of Chicago). She spends a majority of her time running on the IL Prairie Path. The path is mostly covered in crushed limestone and lined with trees and rivers. It's fairly flat with some rolling hills.
Kristin trains with Lift|Run|Perform's Sub-3 Project. It's a group of women from all over the U.S. that share a common goal of running under a 3-hour marathon under the guidance of coaches Mary Johnson and Lauren Floris.
How was your training leading up to the race?
My training has been intense, since it's marathon-focused. We started with track/speed workouts, and we've now moved to more tempo/interval workouts within longer runs.
Did the V.O2 app provide benefit to your training and racing?
I love that the V.O2 provides training paces for 400m through marathons. It gives me great insight as to paces I can hit, as well as, paces to work towards. I love how it organizes my workouts and tracks my progress. It's been super motivating to watch my V.O2 number rise, as my fitness grows.
Talk to us about a recent race or your progress in general! How did it go? What were your goals going into it and did you meet them?
My most recent race was the Fox Valley, IL Half Marathon. I came in first for the ladies by over five minutes, which was super fun. I've been fighting back-to-school germs my kids have passed to me, so I didn't hit my time goal, though. I felt a bit "off" during the race, but I pushed through. I did PR by almost two minutes, though!
Is there anything you learned from your recent training or race that can help you improve in the future?
I learned that if you put the hard work in you will progress. Even when feeling sick, I finished strong and achieved a PR.
Who is your coach and what have you learned working with them?
Mary Johnson and Lauren Floris from Lift Run Perform! They have taught me to stop comparing myself to others and to just keep working towards my goal because I am capable. They have also encouraged me to trust myself and to have fun while working hard.
What is your handle on Instagram?