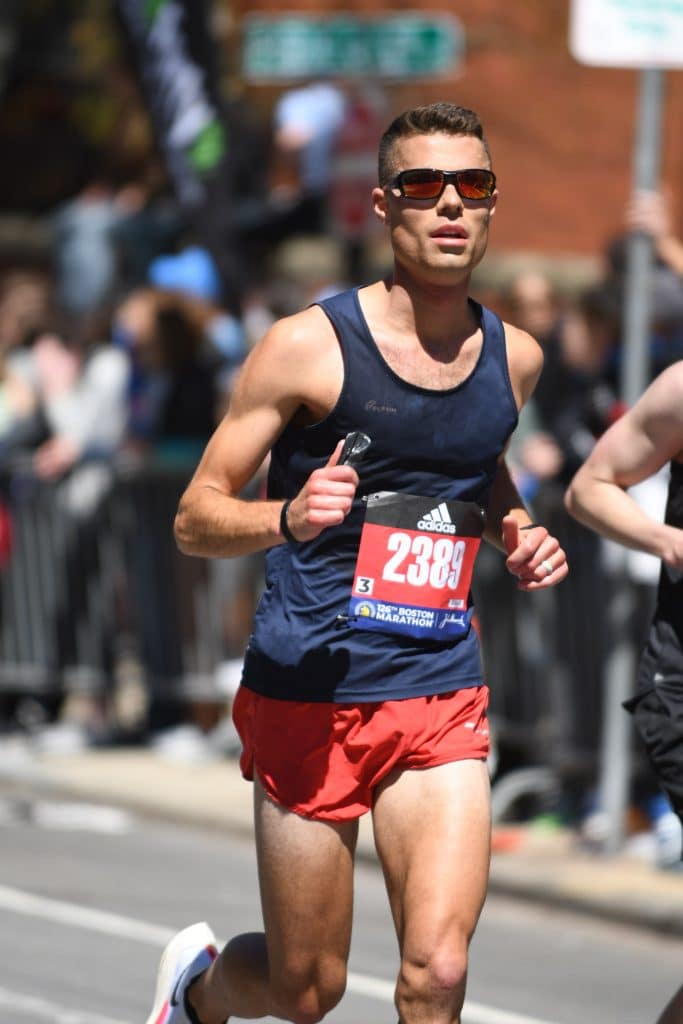 Alex Knecht is in the Air Force but currently lives and trains in Panama City, FL. He recently competed at the Boston Marathon, a big goal race of his. Having been raised in the northeast originally, the Boston Marathon was always a pinnacle of distance running in his mind and something he worked towards once he began running.
How was your training leading into the race?
My training leading up to the Boston Marathon was absolutely awesome! I had a great build with several weeks over 90 miles. I had a great combination of high mileage and strong quality workouts that built my fitness and gave me a lot of confidence coming into the race.
Did the V.O2 app provide benefit to your training and racing? If so, how?
The V.O2 app has provided the structure and framework that I needed to excel in my training. Having a coach and the V.O2 platform removes any guesswork from training, allowing me to fully focus on recovery and nutrition when not training. It takes all of the guessing out of paces, volume, and workouts, allowing me to simplify my training process.
Talk to us about the race! How did it go? What were your goals going into it and did you meet them?
The Boston Marathon this year was the third marathon I've run, and my first time running Boston. I came into the race a bit overconfident, and probably did not quite respect the race and the hills of the course enough, especially coming from flat Florida. My first two marathons were a 3:06 and a 2:50, and ambitiously I wanted to be between 2:38-2:42 for this race. I raced a tune-up race in the spring that put my V.O2 Equivalent for the marathon within this range. I felt like although ambitious, especially for someone who has only been running for 2 years, it was doable.
The race conditions were beautiful: sunny, 50 degrees, and a gentle breeze. I've never raced in a major race, so the crowds, cheering, and energy were electric. I started out with a strong pack and had an incredible first half, passing through 13.1 in 1:19, putting me right on target to hit my goal finish time. I knew the pack I was with was pushing the far upper boundaries of my fitness level, but I felt strong and made the decision to tuck in with them and try to gut through the rest of the race with them.
When we got into the more challenging hills around 30K, the pack started to fall apart. Some guys sped up and managed to finish in 2:38, others fell apart and ended closer to 3:00. I tried to stick with the lead group, but my quads were completely shot and had nothing left. I slowed down just a bit to try to recover, taking the ups a bit slower. I actually managed to jump back onto a 6:02 for about a half mile after cresting heartbreak hill, and tried to work the remaining downhills to my advantage, but I just did not have any gas left in the tank after the effort I put into the first 20 miles. At that point I fell behind goal pace for the last 5 miles, but still managed to finish in 2:44, PR'ing by over 6 minutes, and meeting my B goal of sub-2:45.
All in all, it was an awesome race, with so much great energy and such good crowds. I've never had a race experience like that, but hope to compete there again in upcoming years.
Did anything unexpected happen during your training or race?
I did not expect to bonk the way I did on the final few hills, but that's part of training in Florida. I used bridges as best I could to simulate hills, but the incessant grade on the Boston course (you're always moving up or down, hardly ever level ground) was something that was very challenging to prepare for, and something that definitely got the better of me in the race.
Who is your coach and what have you learned working with them (if applicable)?
What is your handle on Instagram?