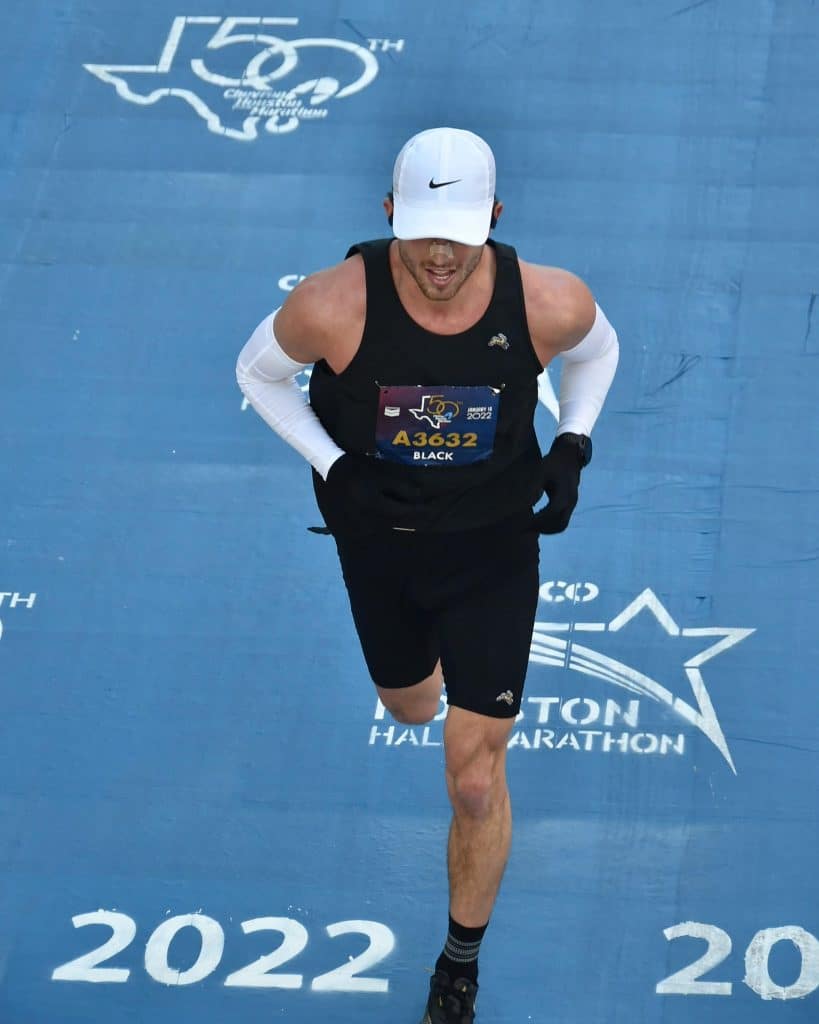 We chatted with Tom Black after his 2:31 personal best at the Houston Marathon last weekend. Tom lives and trains in New York City.
You raced Boston in October and then Houston last weekend. Not a huge time between the two. How did you recover from Boston and soak up the Houston training?

TB: After running Boston in October, I had 14 weeks to shake that race off, build back up and then fine tune for Houston. I ran a 2:38 in Boston, nearly the same as my PR, which I was thrilled about given the difficulty of Boston's course but I didn't think that time reflected the training I put into it.
Naturally, within the next few days I was looking for another opportunity to test my fitness. My body was pretty broken down but I was really motivated to keep training hard.
Once I could really run again, I started preparing for Houston. It ended up being only 12 weeks, which is definitely the shortest I've prepared for a marathon but it also ended up being probably the cleanest build I've had.
With a shortened time frame every little bit of training had to be magnified to make sure I was being the most efficient athlete I can be, whether that's breaking the process down rep by rep or treating recovery as a nonnegotiable – I was giving myself the best chance at a different result in Houston.

What were some workouts during your build that pointed to a breakthrough in fitness?

TB: There were a few workouts that I definitely surprised myself with in the 12 weeks leading up to Houston. I'm still pretty new to running so I'm always pretty shocked at some of the shorter speed workouts I'm able to complete but, because I'm focused on the marathon, those workouts come and go pretty quickly for me.
The ones that always tend to leave a mark are some of the bigger workouts that are either great or what I would like to call, a learning opportunity.
Two workouts I remember specifically were 5x2mile I did on rolling hills in NJ, which accumulated to around 2k feet of elevation. I kept pace pretty well but being able to fly through the hills felt 'new'. The second was a longer workout which was 6 miles at marathon pace, which I moved through quicker and easier than expected, then 3 x mile reps which I flew through at 5:15, 5:24 and 5:20, and then finished with 3 more miles a bit under marathon pace – after that workout I was like 'oh shit!"

You ran 1 second off your VDOT prediction time. Have you found VDOT is typically a good predictor in workouts and races for your fitness?

TB: The VDOT app is an extremely valuable tool when it comes to executing workouts and predicting your race times. The watch app helps eliminate any counting in your head, pacing issues and the structuring of it helps get through long workouts in small bits – all of which free up any energy to focus on actually running well.
I find that knowing your VDOT level and it's suggested paces also helps you understand the training process a little bit better, especially when I was first starting out. I find that running can be as simple of a sport as you want it to be and stripped down it's only going to be as exciting as you make it. I love the process of training and tracking my progress over the years has really been one of the catalysts of why I care so much.
That being said, as an ex-D1 athlete and competitor I love the fact that the "numbers don't lie" in running – it keeps you honest and you really have to put in the work. That means that you can also track progress pretty easily and I think I've built a pretty good system at being competitive with myself.

With running, your ability is your ability at that point in time and that's what the VDOT helps capture. It helps with managing your effort in workouts and also serves as a benchmark for racing. If I'm going to race a 10k and I've never raced one before, I'm probably going to start and end that race somewhere around my VDOT predicted pace, which will prevent any blow ups and also be pretty dang close to a perfect race.
This past weekend in Houston, I knew if I stuck pretty close to my VDOT marathon pace in which I was training at, I should be able to run a great race. I had trust in VDOT and the training that my coach put me through leading up to it. I would also like to note that without trust in your coach's process, the accuracy of VDOT diminishes.

How did the race go in Houston? How was it different from other marathons you've run?

TB: The race went really well and I PR'd by 6 minutes. In my first 5 marathons, I have run massive positive splits and have walked several times in all of my races, so my biggest goal in Houston was to run a negative split. I am stoked with how I executed on my coach and I's strategy – I ran the first half in about 1:17 and then was able to pick up the pace and make some ground with a second half of 1:14.
It was an all around great day in Houston with some incredible performances. As far as the actual race, it was really windy in parts so running with a pack was crucial early on in the race. The pack I settled into in the beginning was cruising a little bit slower than I would have liked and there wasn't another pack in sight so I stuck it out and hoped that I would be able to make moves later in the race and I did. It was definitely a bit nerve racking, but I had a lot of trust in my training and what I was capable of.

What's next for you?

TB: Keep the foot on the gas! I don't like taking big breaks from running and don't really feel the need to. I take good care of my body and am still pretty new to the sport so I'm just focusing on getting back out there and digging in. As far as racing, I've signed up for the United NYC Half Marathon in March which will be a new distance to train for, plus a little home-court advantage never hurts!
Follow Tom's training journey on Instagram or inquire about private coaching on his VDOT Marketplace profile.