Ann Centner lives and trains in Tallahassee, FL. She's coming off the USATF Half Marathon where she clocked her second best time of 1:14:52. In October of 2021 at the Chicago Marathon, she ran 2:42 to set her personal best.
We reached out to Ann to learn more about her running background, what she attributes to her recent success, how she learned to train herself, and what motivates her to keep training at a high level.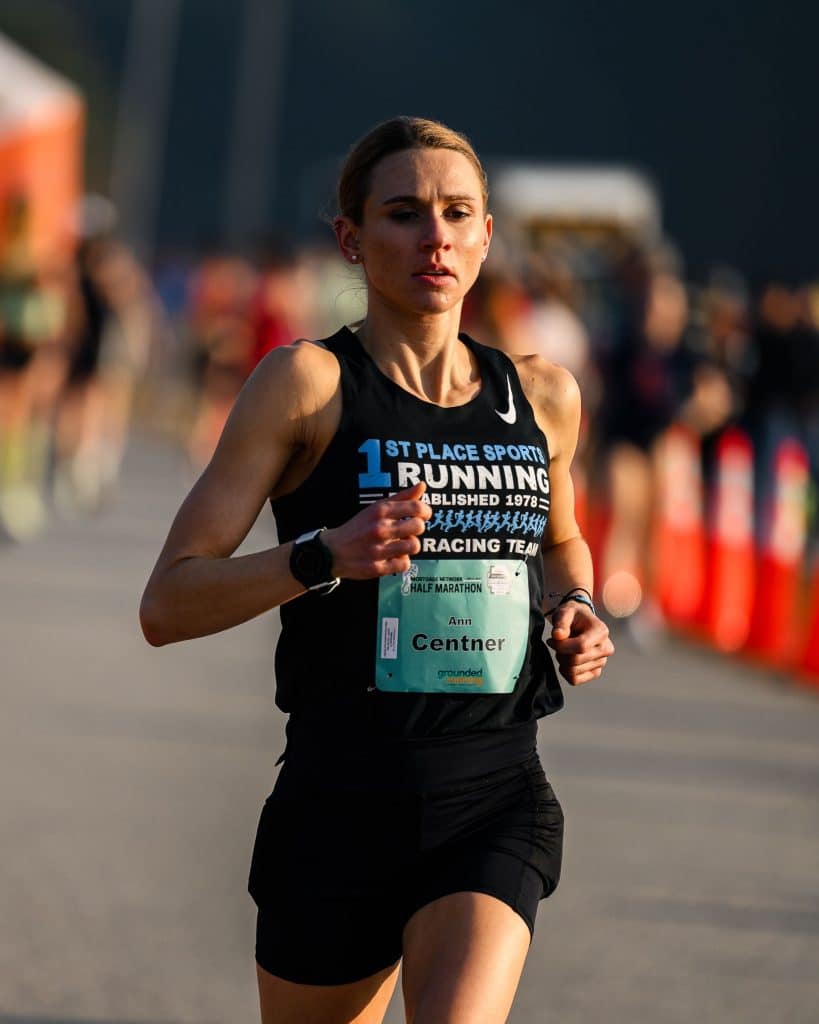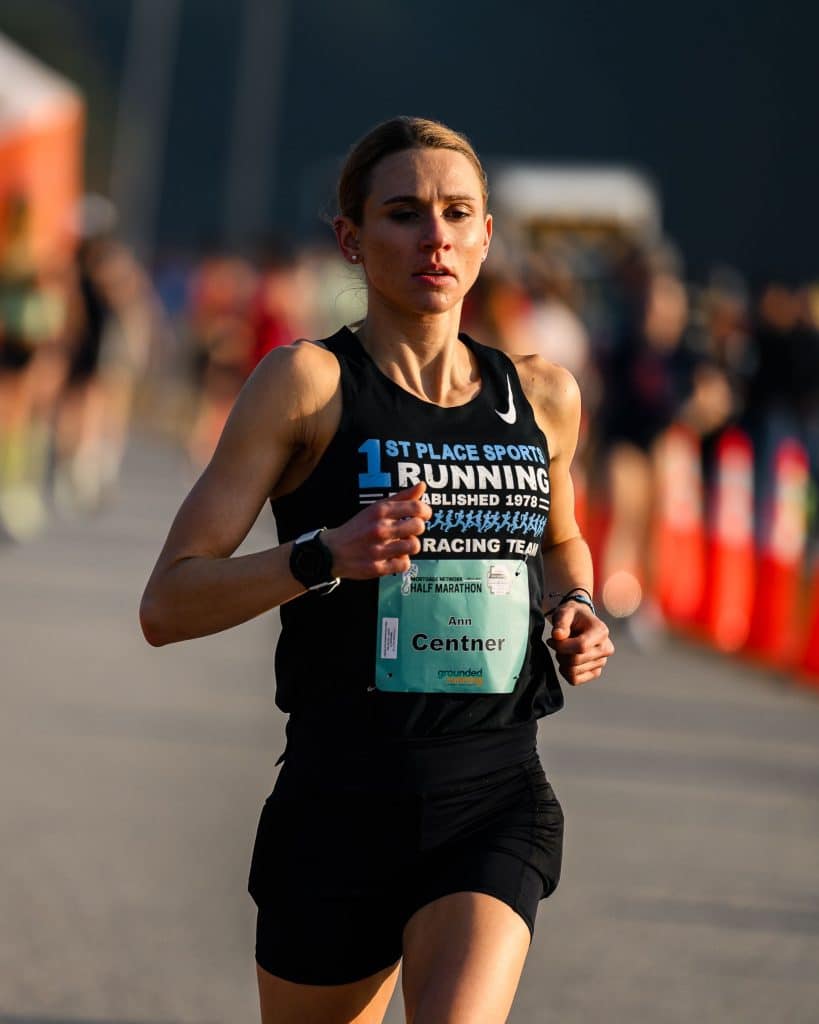 As someone who was training themselves until recently, how did you find the proper training methodology?
AC: After obtaining my Bachelor's degree from the University of Georgia in 2015, I was doing some running and weight training. I was coming off two stress fractures in my pelvic/hip region so I was building slowly without any specific intentions other than enjoying the process of getting fitter. I used a template I found on coolrunning.com which involved a 3-mile track workout (traditional interval repeats 400m-1600m in length at 5k pace with standing recovery about equal in time to the interval), hill repeats (about 3 miles worth of continuous work), and a long run (started at 10 miles). I was running about 40 miles a week, 6 days a week, but progressed this volume up. Then I started adding in more tempo work before the track work and doing a hilly moderate route instead of hill repeats with a jog between.
In 2019, I hired a coach that led to major performance improvements. My mileage increased and more structured Threshold training (Threshold repeats up to 6 miles in volume) was added. I left in the summer of 2021, due to interpersonal reasons, but the process helped me outgrow the static training philosophy and showed me I was missing some key elements to my training.
For my training in fall of 2021, I took what I learned about the sport through different coaches, friends, books, and media. I listened to a lot of running podcasts and had an earlier version of Daniels' Running Formula, plus the Hanson half and full marathon books. I purchased Daniels' new book, which I really liked, as well as Hudson's "Run Faster" book on training methodology. I was reading a lot about the purpose of different workouts, and sifting through the methodologies and looking at the specific workouts and training plans.
I liked the plan in Jack Daniels' book but had a lot of races on the calendar which made it challenging to follow a specific plan. So instead I tried a few new things, like longer straight tempos (versus Threshold Intervals) followed with 4 by 200-meter repeats fast. Repetition work and Fast Reps were definitely something my training had been missing and adding the speed in was fun and helped me set a new 5k PR.
What do you think you did well with writing your own training? Where did you maybe struggle?
AC: I learned so much about different training methodologies, which often differ in the details, and the purpose behind different workouts. The main new style of workout I tried was longer steady tempos followed by shorter faster reps. This set me up for PR's in the 5k and 10k, with my long-term sights of a half then a full marathon. I didn't scrap completely what I had been doing or make a plan so challenging it could not be completed, but made minor adjustments.
The plan had a structure with easy days, hard days (Repetition, Interval, Threshold, Marathon) and distance variety. I struggled mostly with zooming in and zooming out of the training plan. Not necessarily trying to be somewhere fitness-wise, but wanting to have "the best plan."
However, in reality when adding new workouts/stimuli I couldn't plan so far in advance because I didn't know how I would adapt to the training. I struggled with how to modify training around races as well as with wanting to try new things, but not wanting to leave my comfort zone and the training that had led to so many improvements. There were plenty of new workouts out there, but the balance between what and how to adapt my training plan for different races and my progressing fitness was hard to decide objectively.
What is your running history? How long have you been a competitive runner?
AC: I started running cross country and track in 8th grade and continued throughout high school successfully. I had talent and I enjoyed both the freedom of going for a run and the structure of a training week. Seeing improvements and climbing the state leaderboard was enjoyable.
I ran for UGA off and on during my time there, but was injured often and overall it wasn't the best fit for me. My identity was largely tied to running successfully, being on scholarship, and trying to make the travel team. It was too much pressure mentally and physically to perform and push the body harder than ever before. I felt like, as an individual, I wasn't valued or understood the way I was used to being valued. I was pushing my body well beyond its limits to recover and always getting injured.
I never thought I'd be drawn back into competitive running as I have been. I've really enjoyed the freedom to pursue running on my own terms, at my own pace, work on weaknesses, try new distances, and increase mileage and intensity in training.
Why do you run? What inspires you to train at a high level?
AC: I've faced adversity, and for almost a decade gave up on achieving better performances than I ran in high school. I had great female coaches in high school, but still I would say my performances were largely based off my innate talent, as I ran low mileage and only 6 months out of the year. However, I was always drawn back to the sport, with its accessibility and the quick friendships. Internally, the simple joy and freedom of going for a run, completing a speed session, going further than I've ever gone before – I love seeing my fitness progress and my confidence build.
My running thrives when it's something that's mine: something that no one forces me to do. I've learned to separate my self-worth and identity from running, while still taking training and race goals very seriously. The character traits that come along with running responsibly on my own terms have shaped me into a better person. I perform better at work and school, and navigate relationships better. Training at a high level has developed traits such as discipline, dedication, positivity, hope, care, and patience.
What does the V.O2 experience bring to your running?
AC: Before using the app, I never thought much about different paces for different workouts. I guess I was running off of feel or effort or just sliding into a pace group. Through more structured training with specific paces I have been able to improve tremendously. I can better pace workouts as well as races and have a good idea of the time it will take for me to complete various race distances.