Editor's Note: After commending him on his workout Matt Freitas messaged us, "Thanks for your platform…it's taken my running to the next level." Naturally, we wanted to learn more about his progress.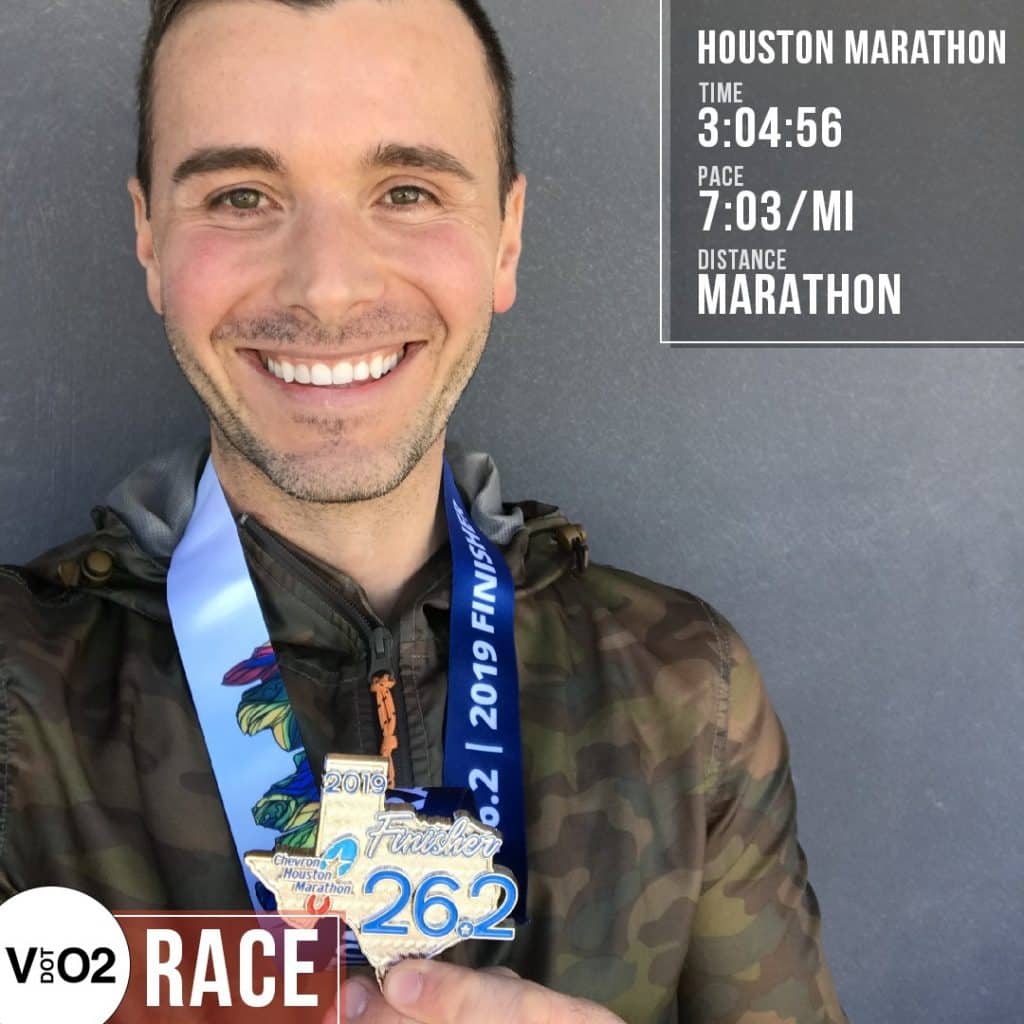 In less than two years, the pediatric dentist and father of three has gone from 3:55 at the Iceland Marathon to 3:04:56 this year in Houston. Last summer, after feeling his progress plateau, Matt connected with Michael Crouch of McKirdy Trained. Since then he's set two major PRs in the half and full marathon.
"One of the #1 issues I find with someone who can't seem to make improvements is that they hammer their Easy runs too hard," said coach Michael Crouch. "For Matt, working the proper training zones, along with slowing down his recovery days, really propelled him to new levels!"
Q & A With Matt
VDOT O2: What are some of the biggest changes in your approach since working with Coach Michael?
Matt: When I made the jump to Coach Michael last summer my training became very dynamic; with more speed workouts, intervals, hills, strides and long run workouts with MP and threshold work. I have also built my weekly mileage from 40 miles a week to almost 80 miles a week.
VDOT O2: What do you attribute to your success the most in the past two years?
Matt: There's a lot of factors, but showing up each day and doing the work is the most important. Michael and VDOT are both incredibly motivating. I work full-time as a pediatric dentist, I own/run two practices, I have 3 kids and I've been marathon training for 2 years straight. Having Michael and VDOT training plans provide so much support in my busy life.
VDOT O2: What's your goal this season?
Matt: My dream next month is to break three hours at the Baystate Marathon. I have never worked as hard or been as mentally prepared to make this dream a reality.
VDOT O2: What do you appreciate most about the VDOT O2 app?
Matt: It's great to have my training plan on the app. Michael and I can conveniently edit, post and communicate on the platform. I love how it has my fitness level and paces.
Proud Coach
Coach Michael puts Matt's progress as an athlete into perspective, "Matt is extremely positive and doesn't let the lows eat him up. Even when a race hasn't gone as planned, he doesn't dwell on how much he didn't do, but let's it motivate him to do better, and that is a core principle of a successful athlete."
Create workouts, log and track your fitness improvements on the VDOT O2 app.