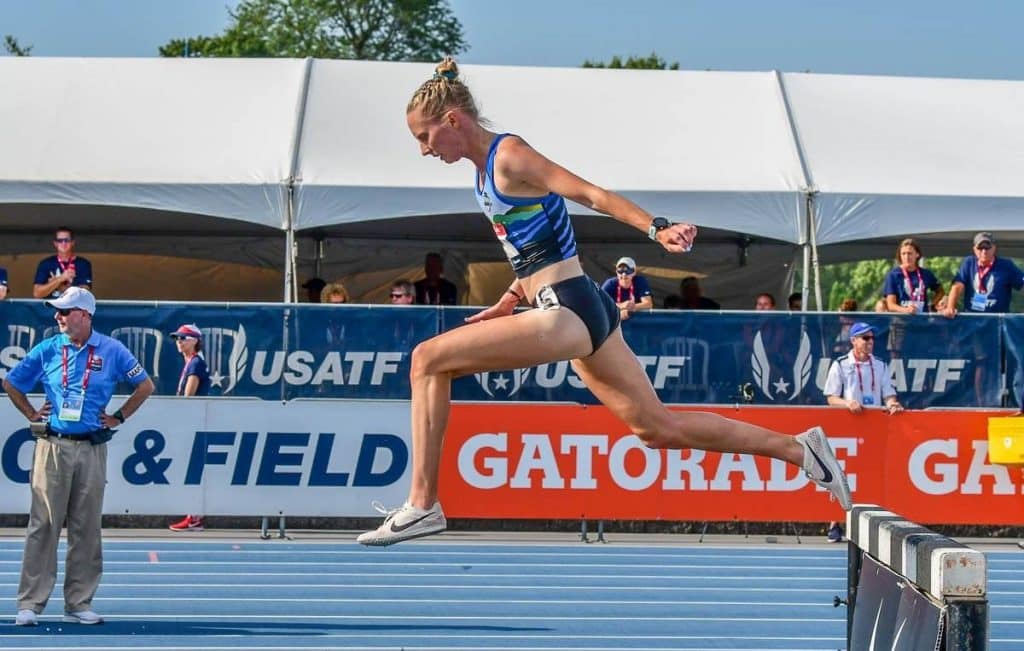 Courtney Barnes moved to Flagstaff, AZ last year and shortly afterwards began working with private coach James McKirdy of McKirdy Trained. In just 8 months she's already accomplished one of her goals of representing Team USA. After her 8th place finish in the 3,000m Steeplechase at U.S. Champs she'll be wearing the USA singlet in Europe this summer.
"Courtney has a very level head on her shoulders. I can trust her to make good decisions in her training but I also have come to learn when it's appropriate to give her a push to strive for more out of herself," says McKirdy. "More often than not, we've been on the same page with where training needs to develop in order for her to find her best running."
We caught up with Courtney to learn more about her transition to post-collegiate running and living in Flagstaff, AZ. Not only is she a superstar athlete she is also a coach on our platform for McKirdy Trained.
VDOT O2: This was your second U.S. Outdoor appearance. What was your experience like this year compared to last? Were you pleased overall with your result?
Courtney: Yes, this is my second appearance at a U.S. Track Championship and this year was wildly different from last year. Last year, it came as an added bonus to my final NCAA season. My college coach and I saw it as an opportunity to compete with the best, but I had no intention of making it to the final, especially since I was due to get married the next day. My now husband traveled to Des Moines and we drove back after my race to get ready for our rehearsal dinner the next evening. It was special because I had no expectation then and was just really grateful for the experience. This year was wildly different- in the best of ways! USA's was my top goal the whole year. I knew if I wanted to show my competitive toughness, I had to be ready to compete with the best in the finals at USA's.
VDOT O2: What was your big takeaway on the race and what are your goals for the rest of the season and longer term?
Courtney: My goals were to place top 8. I had a fairly relaxed time in the prelim and was ready to hurt in the final. I ended up placing 8th this year, which was a great step from last year. It was my first time taking the meet seriously and ending up in 8th, I look at it as a really great stepping stone in my professional career. My biggest takeaway from that and the past season would be relearning how to race at a professional level. In college, racing is different, so I had a large learning curve on racing this past year but felt like it paid off last weekend in Des Moines as it earned me a spot to represent the United States at a European track meet this September.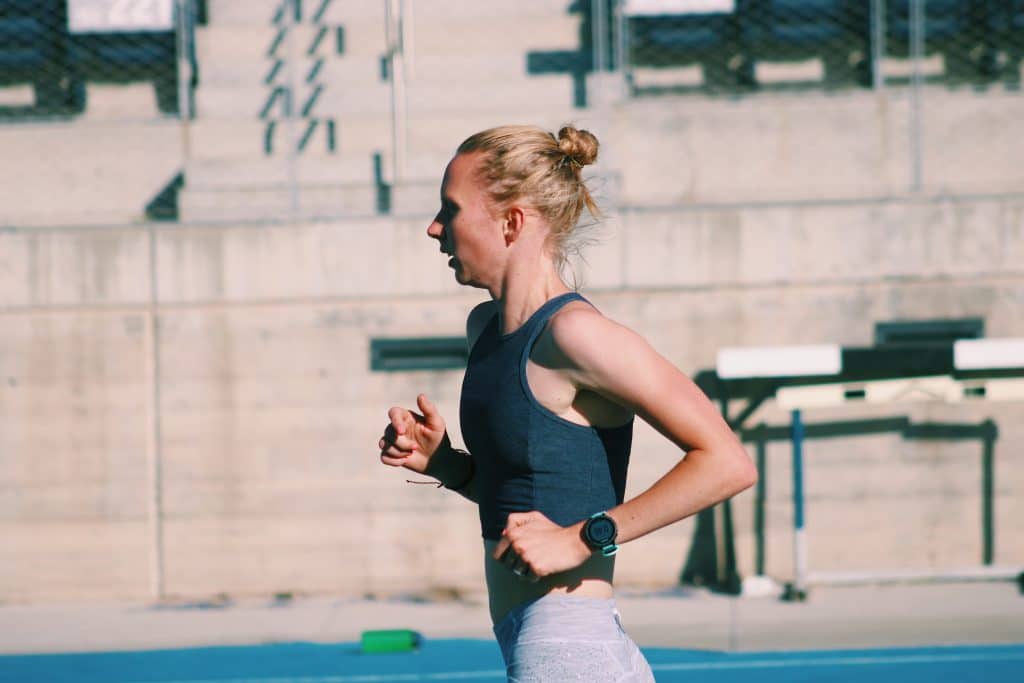 VDOT O2: How has your transition to Flagstaff been? Do you feel the new training environment has helped you progress? If so, how?
Courtney: Transition to Flagstaff did not come without huge setbacks in training. For me, I had lived at sea level for 23 years so making the jump to 7,000 feet last summer was quite a feat. It took about 5-6 months of training to feel like myself again. I went through phases of doubt and frustration thinking I would never return to my "normal" fitness level experienced in Kansas. However, with some patience and very persistent training, I was able to get back to more normal paces on runs and workouts. It took another bit of time to learn how to "train high, race low" as I would go to sea-level for races and not completely understand my fitness level that I had acquired at altitude.
The new training environment and the community of runners here in Flagstaff has seriously expedited my fitness and training lifestyle. It is easy to be serious when everyone around you is also serious about it. Flagstaff also offers so much diversity in trails and scenery that its hard to not want to run. 🙂
VDOT O2: Has your approach to training changed since transitioning to post-collegiate running? What adjustments in your training (if any) have been instrumental to your success?
Courtney: My approach to training has shifted from college in a distinct way. In college, everything is laid out for you in terms of races, training, travel, food, school, etc. Post-collegiate, I have learned how to keep balance in a different lifestyle. I learned that the balance I had in college with school, social life, etc. was necessary in a professional life for me. That being said, I have worked hard to maintain balance by picking up other jobs, hobbies, friends, etc. in Flagstaff. You also get to decide what type of training works for you, where you want to race, who you want to coach you/train with and that is a highlight of this past year. I felt like I have really been integrated into the running community here and it has been such a blessing.

VDOT O2: How has coaching athletes while training at a high level impacted your career? What do you like most about coaching?
Courtney: Speaking of balance, picking up a job with coaching has been one of the greatest things for my running and training. I enjoy coaching because I get to serve the running community in a different way. I love interacting, motivating, and chatting with athletes of all different backgrounds. I love mentoring them to their goals and truly believing in their training. I know one day I'd love to coach at a small college/community college so this is a great way to break into the atmosphere of coaching. I have such a heart for runners because we truly are a different breed. 🙂

VDOT O2: You mentioned the diversity of running in Flagstaff. What's your favorite place to run?

Courtney: Any single track trail! I LOVE zoning out and now worrying about paces/distance on these trails. You get to experience beautiful scenery and enjoy running for the sake of running. Sometimes I go with friends or a pup to keep me company 🙂