Rebeka Stowe is a running coach on the VDOT O2 Coach Marketplace. We're proud to have this rising star in the coaching ranks using VDOT O2 to manage her athletes. As an elite athlete Rebeka has worked with some of the best coaches in the business. She also have an incredible positive energy and philosophy to add to her experience.
Running has been used as the vehicle and catalyst for growth in her life, she says, "It has taken me places, physically, emotionally, and spiritually that I may not have gone without the desire of my heart to excel and do well by running. My philosophical approach to running is that it is holistic therapy, a means to gain greater wellness and joy in day to day life." Her hope is to share this same philosophy and pursuit of growth with the athletes she coaches.
Rebeka's Coaching Bio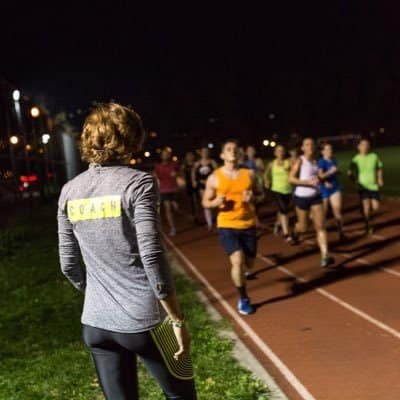 Qualified To Coach: 800m, Mile/1500m, 3km, 5km, 10km, 15km, Half Marathon, Marathon
Keywords: Competitive Runners, High School Runners, Beginner Runners, Cross Training Advice, Mental Skills
Available for Coaching: In-person, Online/Remote coaching, Consultations
Coaching Certifications:  USATF Level I, VDOT O2
About: Runner and Coach based on the East Coast. Rebeka is a Jayhawk who moved East after college to train with the New Jersey New York Track Club. She continues to pursue her own running career, while coaching privately as well as with Nike Running in New York City.
Rebeka currently offers two private coaching options. To learn more about her background and coaching services please visit her coaching profile.