Running coaches of all levels can now improve their resumes by becoming certified online by the "World's Best Running Coach." Are you up to the test? Take the VDOT O2 Distance Certification Exam, authored by legendary coach Dr. Jack Daniels.
According to Runner's World Magazine, Dr. Daniels "has had a bigger influence on training-for-running than anyone. He might be considered the Albert Einstein of the sport." That influence is immeasurable because of the thousands of athletes Dr. Daniels' research has affected through other coaches following his VDOT method.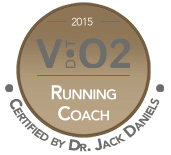 "My goal is that this exam will simplify putting together training advice that can be used for helping runners of any level of ability and fitness achieve their personal performance goals," says Dr. Daniels. If there's one guiding principle for coaches to instill upon their athletes it's learning how to 'achieve the greatest level of fitness with the least amount of training stress' for long term success.
Two common mistakes Dr. Daniels sees coaches make that can easily be rectified by learning the VDOT system:
Treating runners, who are not necessarily of the same ability, as if they are equal by having them run repeat and interval sessions at the same speed.
Not treating everyone on a team as individuals when it comes to weekly mileage. Some can handle more than others, and weekly mileage should determine how much of various types of training should be assigned for each runner.
Up and until this point, coaches have only been able to access this new certification by attending the recently launched VDOT Coaching Clinics. Now coaches across the world can access the exam and get certified online. Michel Armandy of Run Academy in France was the first to do so. After successfully completing the exam he proudly showcased his VDOT Certificate and commented, "Happy to be an official coach."
For more details check out:  http://vdoto2.com/certification
Have a copy of the latest edition of Daniels' Running Formula? Read up! All the questions are derived from the book.