By Amanda Rego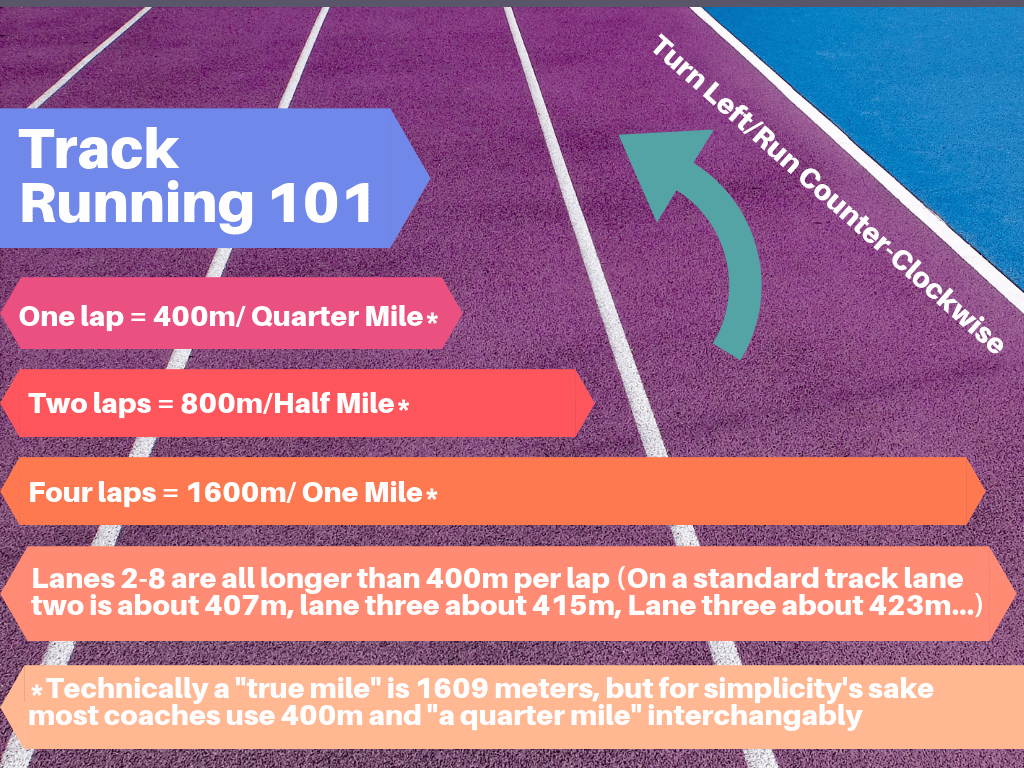 When people hear that I race the 1500m they automatically label me as a "track runner." Little do they know, 90% of my training is done on roads or trails. Yet, ask most marathoners how many track workouts they've done and most would answer "zero." Why is it that track athletes can embrace training on the roads, but road runners often fear the track?
The Benefits
Perhaps one of the greatest benefits of running intervals on a track is that it allows you to create a controlled training environment. Since all tracks are flat and 400m around you can also get more consistent pacing than on the roads. Unlike a GPS watch that may have anywhere from 90-99% accuracy, the track won't lie. Learning how to pace yourself is key for long distance races, and having 100m, 200m or 400m marks to check your watch can be helpful.
Most tracks are made of rubber and are just firm enough to give you a quick, responsive stride, but also soft enough to take some load off the joints. Doing some of your workouts on the track can reduce stress-related injuries.
Perhaps the greatest benefit of track workouts for long distance runners is working on turnover or leg speed. Dillan Webb, a local ultra-marathon runner here in Colorado offers some great advice, "No matter the distance of a race, it's a race. Having a faster gear is sometimes necessary even in an ultra to get a fast start or make surges to pass people." Even if it's doing a couple of fast 200m or 400m repeats after a longer workout, working different energy systems is important to training for any distance.
Do's And Don'ts
Contact local running clubs to find a public track near you. Keep in mind that many school or university tracks are off limits during school hours. When in doubt, ask permission.
Don't let other runners intimidate you. They're busy focusing on their workout and you should be too. If it's a public track then everyone has the right to be there.
Don't run with headphones on the track.
If someone isn't paying attention and is standing in the way you can yell "TRACK!" which simply means "clear the way!"
If you're the one being passed, it's polite to move to the right. Slower recovery jogs should also be done in the outside lanes.
Run counter-clockwise for intervals. If you want to switch directions on your recovery jogs that's fine, just move to an outer lane.
Know your splits ahead of time. For example: mile repeats at 6:00/mile = 45s per 200m, 90s per lap, 3:00 for two laps.
Finally, as a coach I believe it's important to have fun with your training. Most of my long distance athletes will admit that getting to do a few shorter faster intervals on the track can be a lot of fun. It breaks up the monotony of the roads and allows you to test out your top-end speed.
Amanda Rego was a 7x All American in Cross Country and Track & Field at Florida State University. In 2014, she held the 7th fastest indoor mile time ever run by an American female athlete. She's currently training towards the 2020 Olympic Trials in Colorado Springs and coaching athletes online through the VDOT Marketplace. You can view her bio and training products here.