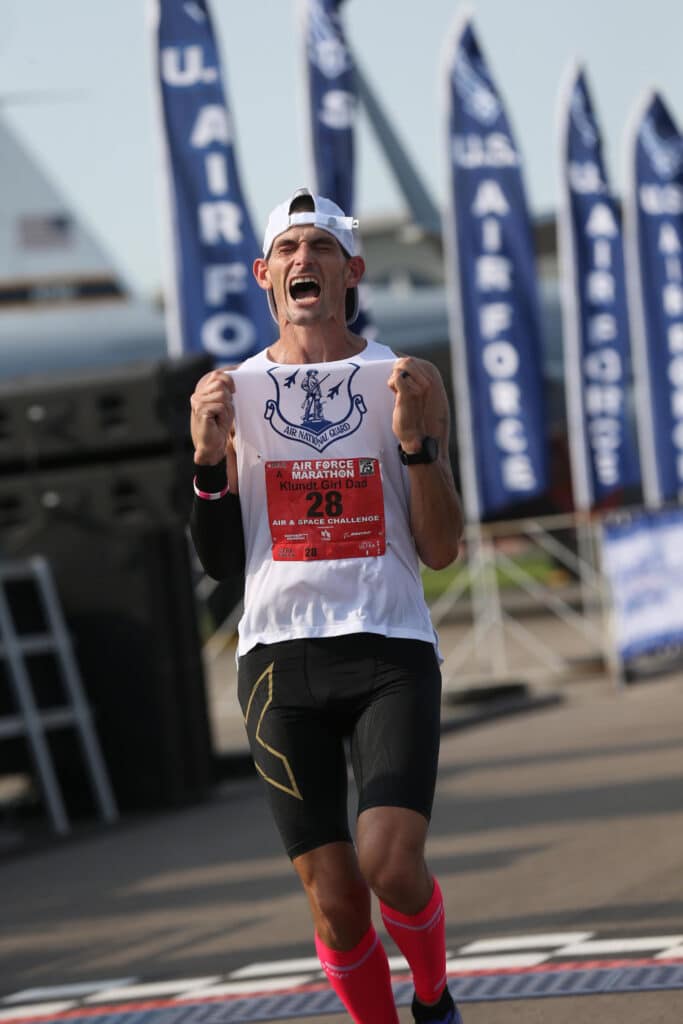 Matthew Klundt lives in Schertz, TX. He took on a pretty tall task of running four marathons/3WMM this fall (Air Force Marathon, Berlin, Chicago, and New York). He's a member of the Air National Guard at the Air Force Marathon in the MAJCOM/Air & Space Challenge since 2015, so it's tradition. He got into Berlin off the lottery and didn't want to pass the chance up to race there. He's also on a quest to complete all six Majors IF he gets selected for entry into London 2023.
How was your training leading up to the race?
Training has been great. The summer was hot and dry in Fresno, and the move to a new state with my family took a bit of adjusting. But the humidity in San Antonio over the summer has definitely prepared me for the fall races.
Did the V.O2 app provide benefit to your training and racing? If so, how?
It has helped me keep track of my workouts given by my coach, and allowed me to adjust workouts and runs as needed through all my travels this fall.
Talk to us about a recent races or your progress in general! How did it go? What were your goals going into it and did you meet them?
My coach and I sat down and had a gameplan talk of the fall races, and ranked which ones I was wanting to try to run fast. I said 1) Berlin, 2) Chicago, 3) New York, and 4) Air Force as a long run tune-up the week before Berlin. The AF Marathon was such a fun race, and felt completely in control. I ran a personal course best of 2:50:07, and my ANG Team won first place in our challenge.
Berlin was amazing! I saw Kipchoge at the starting line before he crushed his WR, and I got high fives from Deena Kastor at the start as well. I felt super good and comfortable throughout the race; legs felt great even with the travel and jet lag, crowds were amazing, and all the sights just breathtaking. I came through in a time of 2:37:36, my second-fastest marathon (2022 Boston, 2:35:43), and was so ecstatic with how I ran coming off a marathon race the week before.
Is there anything you learned from your recent training or race that can help you improve in the future?
Listen to your body! There's good and bad training days, and that's alright. You can't race your best when you're hurt, and when you don't properly fuel and feed the machine that's doing the racing. I've learned it's very important to properly hydrate and fuel to prepare for races in my training, and letting my coach know anything that comes up for adjustments to the training/racing schedule.
Who is your coach and what have you learned working with them?
Coach Jack Polerecky with McKirdy Trained. I've been with Coach Jack since Nov 2019, and ALL of my race times have drastically improved. From the mile up to the marathon.
What is your handle on Instagram?