The VDOT tech tees were designed by Dr. Jack Daniels to give runners recognition for improving their VDOT or fitness level. After determining which race result scores the highest VDOT, runners can now proudly wear the color they've achieved in Jack's scale!
There are 10 levels starting at White (Beginner) all the way up to Gold (Professional). Make sure to enter all your past performances on the calculator below to see which race result scores the highest. Then, purchase the shirts in the levels you've achieved!
Note: Upon checkout you must verify the race, date and result that earns you the corresponding color in oder to receive your shirt.

Men's Levels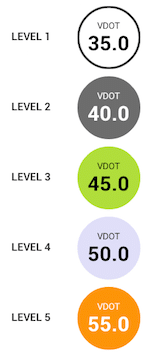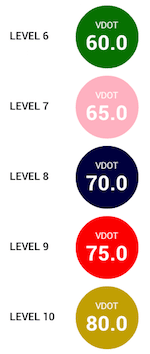 Women's Levels