VDOT Challenge Rules & Guidelines
How it Works
Log in or set up a VDOT O2 account
Opt in to virtual racing on VDOT Challenge homepage
Add your race/save result to your calendar on designated race weekends
Race results are published on Mondays following a VDOT Challenge weekend.
Prizes are available from our race sponsors (terms/conditions may vary)
Rules
Results are ranked by VDOT scoring
Race results can be any distance 1mi or longer
Results must have GPS data synced via Garmin or Strava
Results must be saved to your calendar by Sunday at 11:59pm PST
Race courses with a negative net elevation loss > 1% will be disqualified
Safety First
Always consult with a medical professional prior to undertaking intense physical exercise
Use your best judgment and always stay under control during a Challenge
Focus on your surroundings and not your device/tracker
Listen to your body and take care of yourself
Best Practices
Plan your Challenge or race distance according to your coach's advice or based on your recent training history/future goals.

Challenges can be any distance 1 mi or longer so you always have the option to compete at a variety of distances that best suits your fitness and racing goals.

Plan your route carefully:

Find a route that allows you to optimize your performance. This is a virtual race so consider wind, terrain, weather, etc. and plan accordingly.
Find a route that keeps you safe and out of traffic. Always obey the law. At this time it's also important to keep your distance from other pedestrians (always follow local health guidelines and restrictions).
Find a mapping sites to plan your route and ensure you are staying within the -1% net elevation drop rule.

Syncing GPS

VDOT O2 currently pulls in GPS data from Garmin and Strava. If you use another GPS recording device you can always connect it to Strava to participate.
Before starting your Challenge make sure your watch or phone is properly connected to GPS. If you start your Challenge before your phone or watch has connected to GPS your data might sync inaccurately.
Make sure to enter and save your exact VDOT Challenge time on VDOT O2 after GPS has synced to the run. GPS data often has warm-up, cool-down or other data that can cause the result to be inaccurate. Only manually entered and saved race results will be included in the official results. The GPS is used for verification and may be scrutinized by our rules committee.

Preparing for a virtual race effort

Challenges are meant to bring out your best, like any race day. Approach each Challenge carefully by running easy leading up to the effort and always take your time and warm-up properly beforehand.
You may not have a crowd around you or spectators cheering you along but it's still important to have a race plan. Focus on pacing properly throughout and executing your plan. We always recommend even-effort pacing or trying for a negative split (depending on the course elevation profile).
Results
In order to be included in the VDOT Challenge race results, you must enter your result on either mobile and VDOT web: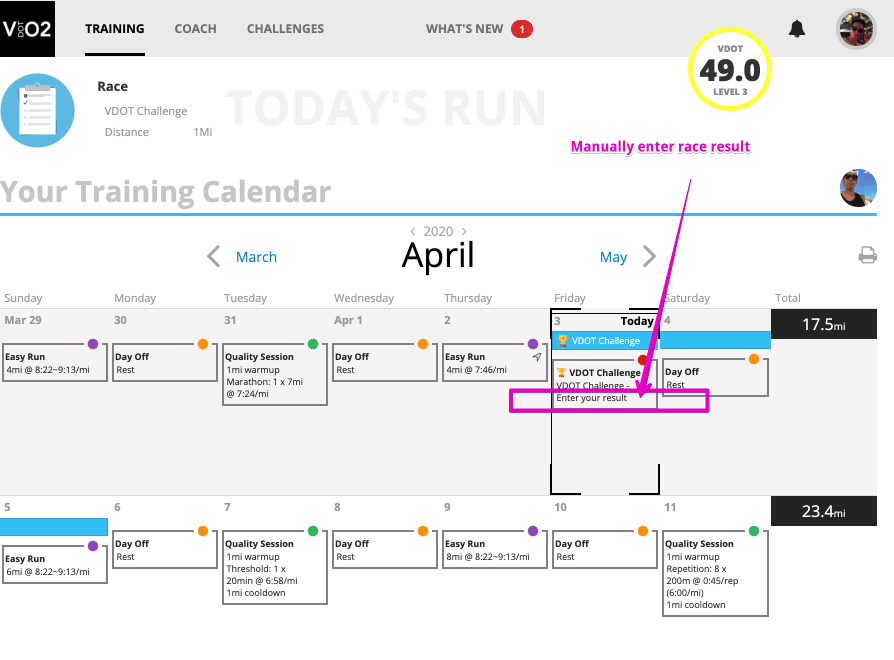 VDOT Challenge results are always published on Mondays following a race weekend. Results/GPS data will be scrutinized to ensure rules and guidelines were followed before results are published.
Look for the Results on the Challenges homepage. Past results will always be available there to view and share. Participants will also receive a notification when results are ready.
Result pages will show an overall ranking of athletes by VDOT score. Athlete name, location, affiliation and age will be included in the results. Results can be filtered by gender, age group categories, location and VDOT levels.
FAQ
I have friends that want to participate, how can they do it?

You can send them this link to enter the VDOT Challenge and compete virtually: vdoto2.com/virtual-racing.
Athlete accounts and virtual racing on VDOT O2 is free.

Do I have to have a VDOT Coach to participate?

No, but you might run faster if you did.

Can my coach schedule a VDOT Challenge on my calendar?
What if I participate at high altitude?

Race efforts run at greater than 3,500 feet (1,066.8m) of altitude are eligible to be converted to a sea-level equivalent time. This must be done by the participant before the race result is saved in your VDOT calendar. It must also be based on your split time at altitude according to your GPS. This converted time will then be your official result and thus eligible for awards.
The conversion table, designed by Dr. Jack Daniels, is based upon the individual user's current VDOT score and respective altitude levels. It can be found here.

What if my GPS is inaccurate when it gets pulled into my calendar on race day?

All results are based on manually entering/saving your time on your calendar.

What if I want to run a course and it's not an even distance?

VDOT Challenges rank results based on VDOT scores. Results can be any distance 1mi or longer. For instance, one runner submits a time of 30:00 for 4.57 mi. That's a 49.8 VDOT and equivalent to a 20:00 5k time. Those two results would tie in the Challenge.
This keeps Challenges fun and flexible to compete.

Can I enter my affiliation to be included in the results?
Why can't someone click my profile on the results pages?

You must update your settings under Preferences. Find "Who can view my profile/race results?" and update it to "Everyone."

I ran on a track, why didn't it end when I hit the finish line?

Satellites connect to your watch in segments. If you run on a track, satellites will ping your watch quickly but not enough times to track your actual distance so it might not track the curve on "the bend". What happens is that your watch isn't measuring every step. Instead, every second or two your watch will connect to satellites to identify where you are and will skip to your next position. This makes your GPS signal think that you're not running on a curve but more that you're cutting every corner that it's connecting to you.

If I don't have Garmin or Strava connected to my VDOT O2 account can I still compete in VDOT Challenges?

Unfortunately, you can schedule them but your time will not be sorted in the official results at this time. We will include you as a participant with your time but it will be "Unofficial" and not sorted within the official rankings or eligible for awards. We hope to add more tracking options in the future.
If you have any additional questions please email us at info@vdoto2.com.