In order to participate you will need either a Garmin Connect or Strava account.
Connecting GPS to VDOT O2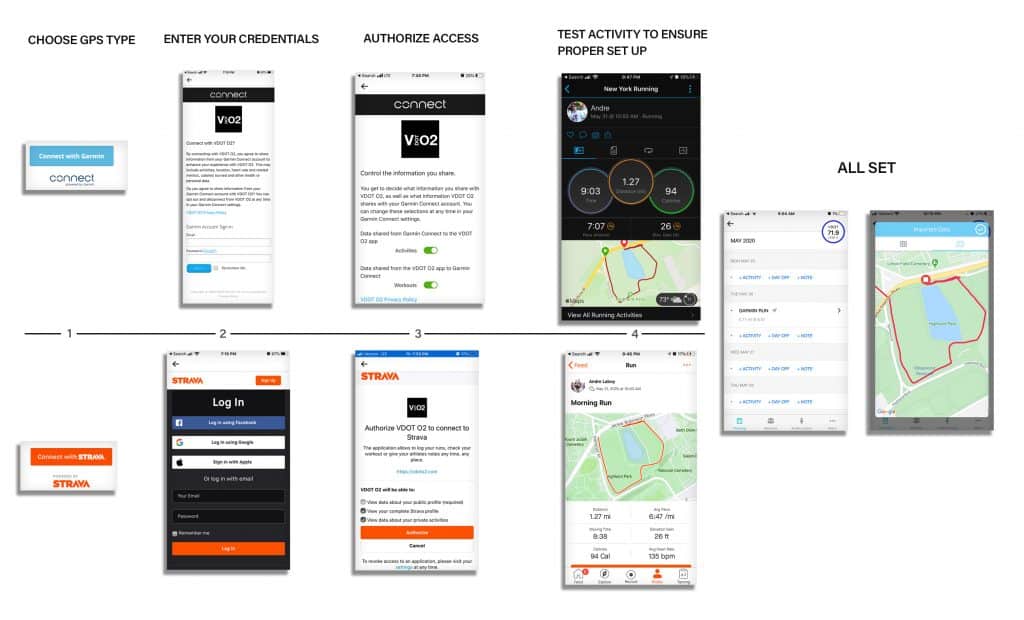 Linking your account
You may use VDOTO2.com or the mobile application to Upon account set up, you are given the option to connect Strava or Garmin. You only need to choose one of the two options. It's important that you provide full access to your profile so that VDOT O2 can successfully pull your data into your VDOT O2 account.
Once you've connected your account, you should do a test activity to ensure that your runs are uploading to VDOT O2.
Most common solutions to problems
"My GPS doesn't seem to be uploading my runs."
Possible reasons:
Wait one hour for Strava/Garmin to initialize your connection, after the first connection, your runs should import immediately.
You may have selected Facebook/Google log in on your phone and inadvertently created two VDOT O2 accounts and the data is being pulled into the wrong account.
You did not sync your run to garmin or strava after you completed the run. You will generally need to open Garmin connect application to sync your run.
You may not have given the necessary permissions for VDOT O2 to pull your data. Make sure all of the options are selected.
Disconnecting and reconnecting your account can be your first step to resolving potential issues you are experiencing.
The GPS didn't get pulled to the correct race event.
Ensure your activity is on the appropriate race day and make sure you update that activity to be "Race" instead of either "easy run", "Garmin Run" or "Strava run"
My warm up and cool-down is shown in the same activity.
That is OK, the results should only include your performance.
Race day result submission

You should have your race event in your calendar ahead of time. If you do not, you can update your activity to be a "race".
Make sure to enter your time in order to validate your performance.
Most common solutions to problems
My result isn't showing up in the results
Your race organizer may not have updated the results yet. If you feel you should be included in the results, please email your race organizer.