Coaches now have the ability to stage (hide) workouts directly on an athlete's calendar with the options to publish one workout at a time, one week or all workouts at once. This new feature (Athlete Staging Calendar) allows coaches to plan training without their athlete seeing all at once. Hiding workouts can keep the athlete focused on one block of training at a time. This saves coaches time because they can quickly tweak/adjust "hidden" training based on feedback before publishing.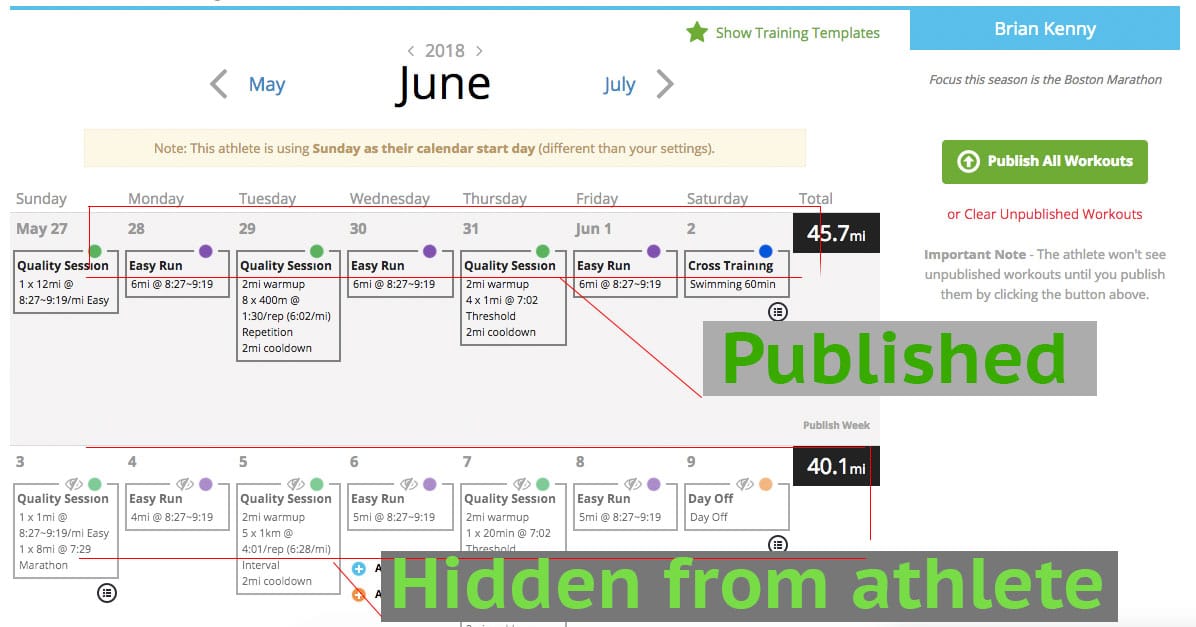 Save A Note/Reminder
The updated athlete calendar also allows coaches to save general notes as a reminder (see note below athlete name above). For instance, a coach can write, "Athlete is coming off of an injury and is not cleared to do Quality Sessions for at least 10 days." Or, "Athlete is currently training for the Chicago Marathon and has a goal of breaking 4-hours." When working with multiple athletes at once it's important to update this note and save reminders to stay organized.
Add Template
The Athlete Staging Calendar also allows coaches to easily access and apply training templates. Here's a great video preview on saving/applying templates on the app. Once you've saved templates you can quickly apply the right template to your Athlete Staging Calendar then release or unhide portions of the template based on your preferences.
Not managing your athletes on VDOT Coach yet? Try a month free and let us know what you think!