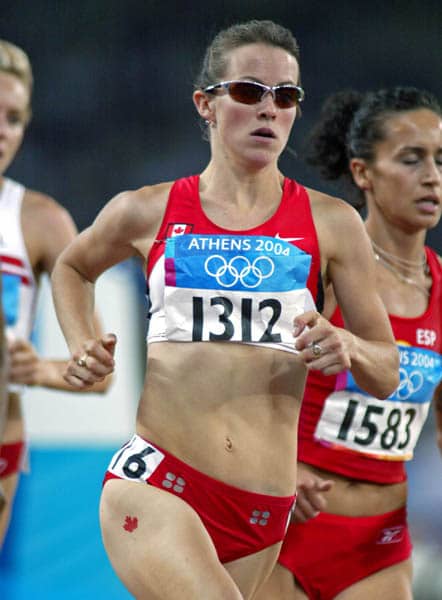 Olympic 1500m runner Malindi Elmore has teamed up with legendary coach Dr. Jack Daniels and The Run SMART Project to offer her 1500m/1-Mile training plan to the public. Until this point Malindi has only been available as a private coach through Run SMART. This past spring she helped a private client go from 4:33 down to 4:13 in just one year! Now, in a matter of minutes runners of all levels can customize her 12-week training plan and gain access to her favorite workouts.
Malindi's Approach
RS:  What are your favorite type of workouts?
ME:  I love workouts a few weeks out from goal race that are fast and specific and give you lots of confidence. For example, 4 x400m with lots of rest but at basically max effort is super fun. If I could do them in sub 60 seconds I knew I was in good shape!
RS:  As a coach what have you learned most about how to get faster in the 1500m?
ME:  Being fast in the 1500 is a combination of being aerobically strong, being fast and sharp, and being healthy. It is such a great event because you have to be strong and you have to be fast to do the event. I love how you can approach it from a cross country / road race / 3000-5000m event range or from an 800m background.
RS:  What should 1500m/mile runners be doing over the winter to ensure their best spring racing season yet?
ME:  Building a good solid aerobic foundation through long runs, tempos and mileage but keep in touch with the race specific pace and some speed.
Customize Malindi's Plan
Signing up is simple:  Purchase the plan and begin customizing your schedule by selecting your goal race/date, how often you want to train and when you prefer to do your longer/harder workout of the week. The VDOT Calendar app will then personalize the paces for all of Malindi's workouts.
Malindi's 12-week 1500m/1-mile custom plans cost $55. For more info visit: runsmartproject.com/malindi-elmore  She is also accepting new clients through The Run SMART Project's private coaching service. Questions? Email coach@runsmartproject.com.
About Malindi
Malindi Elmore (born March 13, 1980 in Kelowna, British Columbia) is a Canadian track and field athlete specializing in the middle-distance events. She represented her country at the 2004 Summer Olympics in Athens, Greece. [Wikipedia]
Throughout her running career she has competed at top championship events including the Olympic Games, World Cross Country Championships, Pan American Games, Commonwealth Games, Canadian Championships and the NCAA Championships. She is a 6-time National Champion and the Stanford record-holder in the 800m and 1500m.